Doctor Who The Complete Series 4 Steelbook
Available to order from www.zoom.co.uk
Also available to order from www.amazon.co.uk
BBC Studios to release Doctor Who Series Four as Blu-ray Steelbook. Release date 27th May
Re-live the action of David Tennant's final season as the Doctor in Doctor Who: The Complete Fourth Series on Steelbook Blu-ray, with new and exclusive artwork. Released on Monday 27th May.
Series Four marked the arrival of the award-winning actor Catherine Tate (The Catherine Tate Show) as the Doctor's new companion, Donna Noble.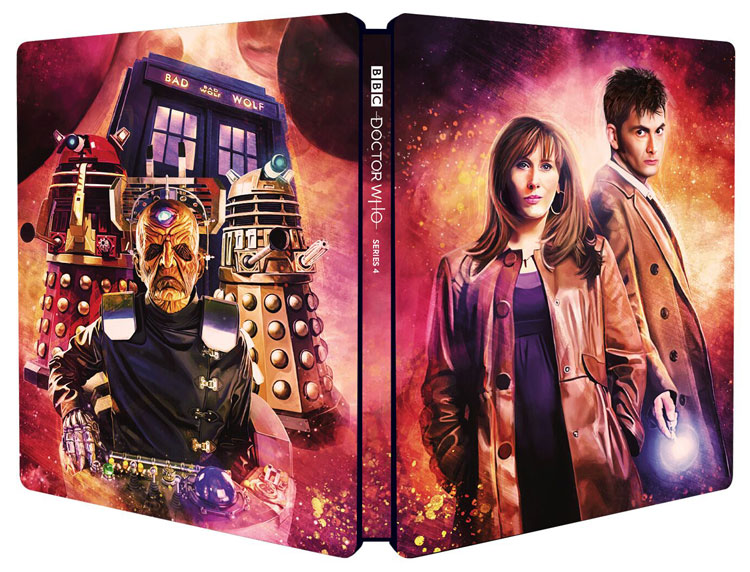 Series Four sees the return of previous companions – Rose Tyler (Billie Piper) and Martha Jones (Freema Agyeman) plus an array of guest cast including Sarah Lancashire (Happy Valley), Felicity Kendal (Inside No.9), Fenella Woolgar (Call the Midwife), Tim McInnerny (Game of Thrones), Peter Capaldi (The Thick of It, Fallen Angel, Skins), Phil Davis (Vera Drake) and Tracey Childs (Broadchurch).
Bonus features exclusive to the release include Doctor Who confidential, video diaries, commentaries, Children In Need 'Time Crash', plus teasers, trailers and deleted scenes.
The 14 episodes are:
Voyage of The Damned
Partners in Crime
The Fires of Pompeii
Planet of the OOD
The Sontaran Stratagem
The Poison Sky
The Doctor's Daughter
The Unicorn and the Wasp
Silence of the Library
Forest of the Dead
Midnight
Turn Left
The Stolen Earth
Journey's End
The Doctor and Donna travel back to Pompeii on the eve of the infamous eruption where people are slowly turning to stone, investigate a series of grisly murders with the help of Agatha Christie, journey to the home world of the sinister Ood and come face to face with an old enemy of the Doctor.
RELEASE DATE: 27th May RRP: £35.73