Doctor Who The Collection Season 12 UK Standard Packaging Release
Available to order from www.amazon.co.uk and www.hive.co.uk
Also available from www.zavvi.com and other selected retailers.
The Collection range of Doctor Who will be re-issued in standard packaging! The first titles to join this range will be Season 12 and Season 19, which are available to pre-order now.
Releases within the new, standard packaging Doctor Who: The Collection range will feature a standard, plastic Blu-ray case inside a slipcase, with a condensed, standard-printed 12-page booklet featuring disc-breakdowns and selected illustrations. The new range will include all of the watchable content and special features included in the Limited Edition Packaging release.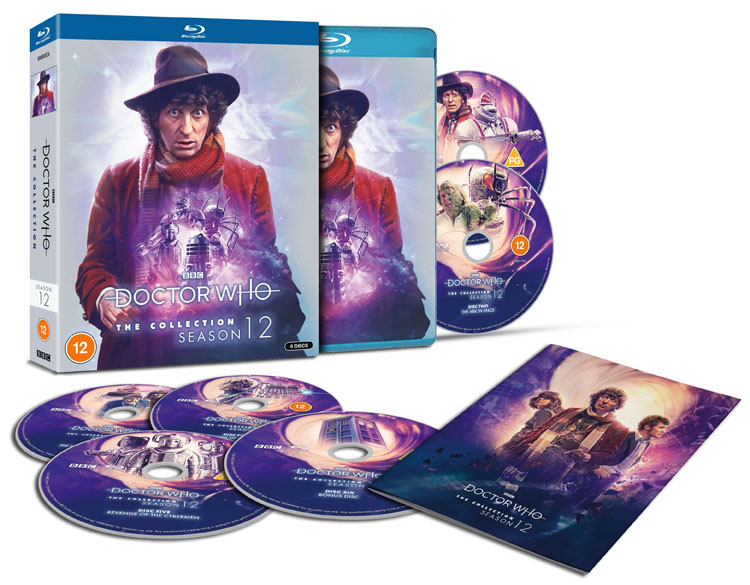 BUILD YOUR OWN DOCTOR WHO ARCHIVE WITH THIS 6-DISC COLLECTORS' SET!
The Fourth Doctor's classic first season – all 20 episodes newly restored for Blu-ray, packed with bonus material.
ROBOT
THE ARK IN SPACE
THE SONTARAN EXPERIMENT
GENESIS OF THE DALEKS
REVENGE OF THE CYBERMEN
Special Features:
TOM BAKER IN CONVERSATION – A brand new candid one-hour interview with the Fourth Doctor
BEHIND THE SOFA – Classic clips, viewed by Tom Baker, Philip Hinchcliffe, Louise Jameson, Janet Fielding, Sarah Sutton and Sadie Miller
NEW MAKING-OF DOCUMENTARIES For The Sontaran Experiment and Revenge Of The Cybermen
IMMERSIVE 5.1 SURROUND SOUND MIXES For The Ark In Space and Genesis Of The Daleks
OPTIONAL UPDATED SPECIAL EFFECTS For Revenge Of The Cybermen
GENESIS OF THE DALEKS – TV-MOVIE VERSION – Unseen since broadcast in 1975
DOCTOR WHO TIMES – 1970s TV context documentary
PDF PRODUCTION MATERIAL – Rare files from the BBC Archive
Also contains extensive Special Features previously released on DVD including: MAKING OF DOCUMENTARIES, FEATURETTES, OPTIONAL CGI EFFECTS, AUDIO COMMENTARIES, RARE FOOTAGE, PRODUCTION INFORMATION SUBTITLES, PDF MATERIAL AND MUCH MORE.
Starring: TOM BAKER, ELISABETH SLADEN and IAN MARTER with NICHOLAS COURTNEY