Doctor Who TARDIS Etched Glass Set
Doctor Who TARDIS Etched 2 oz. Glass Set of 4
Order the Doctor Who TARDIS Etched 2 oz. Glass Set of 4 from Entertainment Earth!
Need a stiff shot of Doctor Who? Inspired by the BBC's hyper-popular Doctor Who TV series, this 4-pack of 2-ounce shot glasses is just what the Doctor ordered. Lovers of the marvelous TARDIS time machine will enjoy the clear glass with the TARDIS image etched into the front and back. Not dishwasher safe. Hand wash only.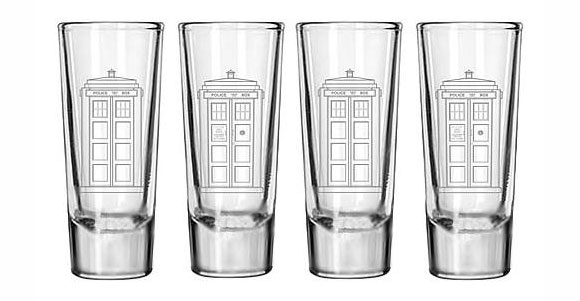 TARDIS stands for Time And Relative Dimension In Space. The TARDIS looks just like a wooden police phone box from the 1950s on the outside, but is of infinite proportions on the inside. This incredible time machine is piloted by the Doctor, a mysterious Time Lord, and is able to transport him anywhere through time and space, disappearing in one place and reappearing somewhere new.