Doctor Who Series 7 Part 2 (Blu-Ray)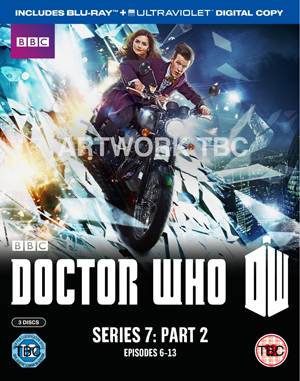 Doctor Who Series 7 Part 2 (Blu-Ray)
Release date: 20/05/2013
Dust off your bow ties (bow ties ARE cool) and get ready to witness the official introduction of the Doctor's new companion, Clara Oswald, played by Jenna-Louise Coleman in the opening episode entitled "The Bells of St John", written by Steven Moffat. Set in London and featuring iconic landmarks like The Shard and Westminster Bridge, the Doctor has to battle a new enemy, the Spoonheads as he discovers that something sinister is lurking in the Wi-Fi.
Doctor Who Series 7 Part 2 promises to be the biggest and most exciting yet, to coincide with the fantastic Doctor Who 50th Anniversary year. With episodes written by Steven Moffat, Neil Gaiman and Mark Gatiss, the Doctor will have to outwit foes, both old and new including Daleks, Cybermen and Ice Warriors.
Doctor Who actor Matt Smith will be joined a stellar list of guest stars including: Celia Imrie; Richard E Grant; Warwick Davies, Jessica Raine; Dougray Scott and Tamzin Outhwaite, as well as for the first time on screen together, mother and daughter 'combo' Dame Diana Rigg and Rachael Stirling.
Above synopsis from www.bbcshop.com.