Retro figures from Bif Pang Pow!
Doctor Who Retro figures coming from Bif Pang Pow!
The Full press release From Bif Bang Pow!
Articulated retro action figures and playsets, bobble heads, license plate frames, journals, tin boxes, coasters, magnets, and glassware on their way. Follow updates from Bif Pang Pow on their twitter page.

Travel through Time and Space with Doctor Who… and Bif Bang Pow!
by Jason Labowitz
Bif Bang Pow! and BBC Worldwide Announce a New Line of Action Figures, Bobble Heads, and Collectibles Based on the Long-Running Sci-Fi Series.
LOS ANGELES, CA – Bif Bang Pow! and BBC Worldwide today announce a new partnership that will bring to market a brand-new line of toys and collectibles based on the incredibly popular television series Doctor Who. The license covers all eras of the show from 1963 through to the present day. Currently aired on BBC America, Doctor Who's latest season delivered BBC America record ratings and reached the top spot on the iTunes TV chart.
One of the most highly sought after licenses from the BBC Worldwide portfolio, the Doctor Who collection from Bif Bang Pow! will feature an array of articulated retro action figures and playsets, along with bobble heads, each embodying that distinctive look and feel of the longest-running sci-fi TV series in the world.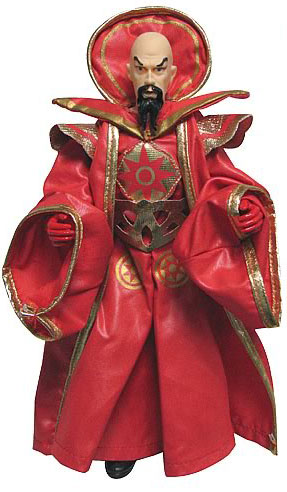 Left – Bif Pang Pow Emperor Ming from Flash Gordon
The first arrivals are planned for summer 2011, and various fan-demanded Doctor Who themed collectibles such as license plate frames, journals, tin boxes, coasters, magnets, and glassware will materialize as well.
Reminiscent of the best-selling "Mego" style action figures of the 1970s and 1980s, Bif Bang Pow!'s amazing line of Doctor Who action figures will continue a successful partnership with EMCE Toys, the team responsible for bringing that classic style back since 2006. These figures will stand 8-inches tall and include episode-specific fabric clothing, in addition to multiple points of articulation.
For the first time ever, bobble heads of the most popular and recognizable Doctor Who characters are also on their way.
"Bif Bang Pow! is thrilled to bring these brand-new Doctor Who action figures, bobble heads, and collectibles to market," said Jason Lenzi, CEO of Bif Bang Pow! "The Denys Fisher range of 9-inch action figures from the 1970s was never released in the United States, and has become one of the most highly sought after toy lines of the past 40 years. Doctor Who bobble heads have never been made for any market, so we have the opportunity to offer these highly desired products to a whole new fan-base that never had the chance to purchase them before. Personally, I've been waiting for this since 1978, so as The Doctor would say, it's about time!"
Retailers and press can see a selection of Bif Bang Pow!'s upcoming product line at New York Toy Fair, February 13-16, 2011, at booth #4813.
About Bif Bang Pow!
Bif Bang Pow!™ (bifbangpow.com) produces first-rate collectibles for such popular properties as Doctor Who™, Dexter™, Lost™, Californication™, The Venture Bros.™, Eastbound & Down®, Beastly™, and The Twilight Zone™. Founder Jason Lenzi is a seasoned television producer and the ultimate fan of cultish pop culture. So when he created his company in 2005, he took the fan's perspective. His idea was to bring items to the marketplace that he himself would want to own. Cultivated from TV, movies, books, comics, music, and more, Bif Bang Pow!'s mission is to provide high-quality action figures, toys, and collectibles to the massive cult audience (and kids of all ages) that wishes these toys were already in their collection.
About EMCE Toys
The EMCE Toys brand (pronounced "em-see") was founded to bring playability back to toys. Inspired by the original action figure company, Mego Corp., we strive to craft quality, durable action figures, playsets, and collectibles that recreate the sense of fun that toys were originally made for. Our launch lines are either licensed reproductions of original Mego toys and packaging, or original creations modeled after the classic lines of the 1970s and early 1980s. EMCE is proud to have the active input and cooperation of Marty Abrams, founder of Mego and father of the modern action figure. We hope to continue to honor his legacy with our work. We have also been honored to incorporate the talents of veteran artist Harold Shull, original illustrator of Mego's classic and distinctive packaging from the 1970s. As we continue to extend this kind of inclusion of the original Mego teams, we get closer to our goal of bringing Mego back as a viable toy company in all but name. EMCE was created by veteran pop culture entrepreneur Joe Sena, President of SphereWerx, LLC, and craftsman Paul "Dr. Mego" Clarke.