Doctor Who Planet of Giants DVD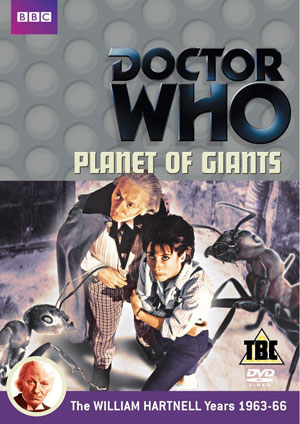 Doctor Who Planet of Giants DVD
The TARDIS doors open while the ship is still in flight by accident.
Although they have arrived back on Earth in the 1960s, a time they have been trying to return to since they all met, the travellers soon realise that something is very wrong.
The Doctor, Ian, Barbara and Susan discover that they have all be reduced in size and the world they are now exploring has dangers at every turn…
Due for release on 20th August 2012.
Special features…
*Commentary with vision mixer Clive Doig, special sounds creator Brian Hodgson, make-up supervisor Sonia Markham and floor assistant David Tilley. Moderated by Mark Ayres.
*Episode 3 and 4 Reconstruction Originally shot as a four-part story, the final two episodes of Planet of Giants were edited into a single episode for transmission. Using the original scripts, newly recorded dialogue and animation, this feature gives viewers and idea of how the original four-part version might have appeared.
*Rediscovering The Urge to Live The team behind the reconstruction explain how it was put together.
*Doctor Who Stories – Suddenly Susan Carole Ann Ford talks about her role as the Doctor's granddaughter and the first companion in the TARDIS in this interview originally recorded for 2003's The Story of Doctor Who.
*Verity Lambert Tapes – Part Two Doctor Who's original producer looks back on her time on the series in the second part of this interview recorded for The Story of Doctor Who
*Prop Design Plans (DVD-ROM only – to be viewed on PC/Mac).
*Radio Times Listings (DVD-ROM)
*Programme Subtitles
*Production Information Subtitles
*Photo Gallery
*Coming Soon Trailer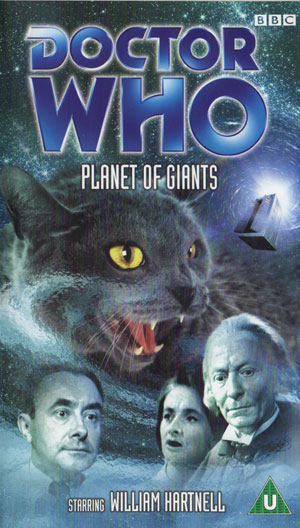 Original VHS Cover and details
Whilst trying to return Ian and Barbara to the twentieth century The Doctor attempts an unorthodox new technique,causing, the TARDIS doors to open in mid-flight setting alarms ringing inside the craft.
Arriving on Earth, the time-travellers discover that they have all been reduced in size – they are now minute people in a world of giant objects.
The TARDIS has landed them between the cracks in a garden patio – a garden teeming with giant worms, ants and cats.
All deadly hazards for the miniature travellers.
To make matters worse, the TARDIS crew are caught up in the trials of a deadly new insecticide -DN6. A chemical so deadly that all insect life is threatened – a chemical that is also lethal to minuscule time-travellers…
This story was originally broadcast on BBC1 between 31 October- 14 November 1964.