Mr. Potato Head Meets The Eleventh Doctor
Doctor Who Mr Potato Head 11th Doctor
Available to order from www.bbcshop.com or www.forbiddenplanet.com
Mr. Potato Head Meets The Doctor
Mr. Potato Head and the Doctor share something in common, aside from their enduring popularity. They have both changed faces and transformed guises multiple times this past half-century. This August, Hasbro's iconic spud and BBC Worldwide have mashed together to form Mr. Potato Head – The Eleventh Doctor! Complete with eight removable parts and pieces, this is one hot-potato to look out for!
Under license from HASBRO INC. and BBC Worldwide, PPW TOYS is launching a line of DOCTOR WHO MR. POTATO HEAD figures which are being exclusively distributed by UNDERGROUND TOYS. New-potatoes will be announced throughout the year.
These unique, one-of-a-kind collectibles were debuted at this year's San Diego Comic-Con. Like other co-licensed spuds developed from PPW Toys, the new DOCTOR WHO line is being designed with collectors in mind. The attention to detail, scale and specific design elements will make these a must-have for both MR POTATO HEAD and DOCTOR WHO fans of all ages.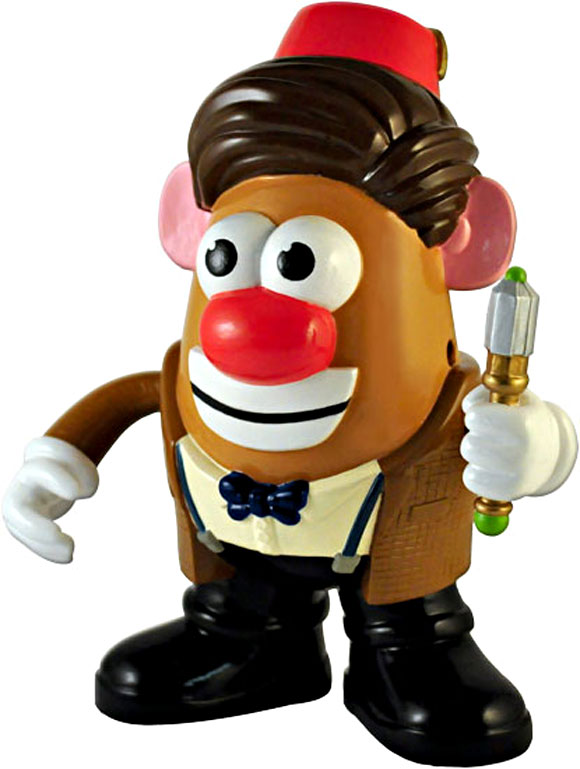 The Spuds are fully-functioning collectible toys with a variety of fun components to mix and match, for play or display. "We are excited to be working with BBC Worldwide and HASBRO this year on such an exciting property." says Dean Gorby, Business Manager for PPW Toys. "Fans of Doctor Who have such a strong connection with the show and will be delighted to see the extraordinary transformation of Mr. Potato Head as he personifies these iconic characters."
Robyn Morgan, Licensing Director at Underground Toys commented: "PPW Toys, Underground Toys, the BBC and Hasbro have executed this remarkable product collaboration in record time! We are very proud of the outcome and we believe the fans will love this special take on the Doctor".
More versions are in development so stay-tuned. Doctor Who Mr. Potato Head products will be available at specialty retailers and e-tailers in Europe, the US and Australia.
Available to order from www.bbcshop.com or www.forbiddenplanet.com