Monster Invasion launches May 2011
Doctor Who Monster Invasion
Sent to us by The BBC
Doctor Who Monster Partwork to launch May 2011
A Doctor Who partwork will launch this spring, BBC Magazines announced today, 31st March. The team behind the market-leading Top Gear Turbo Challenge partwork has produced Doctor Who: Monster Invasion, a new fortnightly partwork comprising a magazine with collectable cards aimed at an 8-12 year old audience. It will launch across the UK in early May 2011, to coincide with the return of the BBC TV series.
The launch follows a successful test in the West Country in 2010. It will be supported by a national TV advertising, print and online marketing campaign, an interactive website with games and point of sale promotions in 3,000 independent retailers.
Some of the covers from the test issues…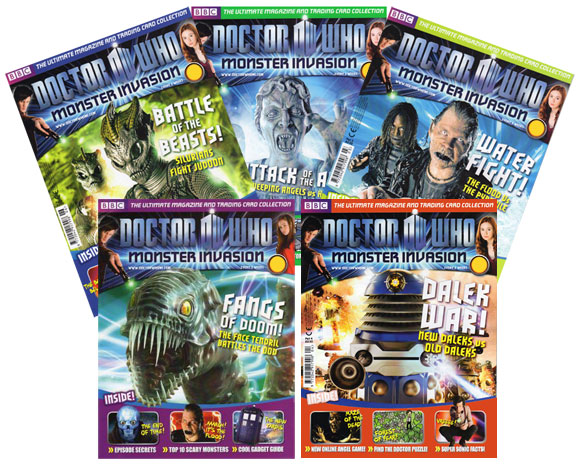 Part one of Doctor Who: Monster Invasion will retail at a promotional price of £1.50 (normal retail price is £2.60) and will contain: a magazine featuring an episode guide; an A-Z of monsters; an alien slamdown fold-out poster; two packs of cards; and the first section of a three-part giant poster. Parts two and three each come with one pack of cards; the first and second part of a collectable TARDIS storage box; and the remaining sections of the giant poster.
Packs of the collectable 'monster' cards can also be purchased separately, priced £1.50.
The type of pages to expect form the test issues…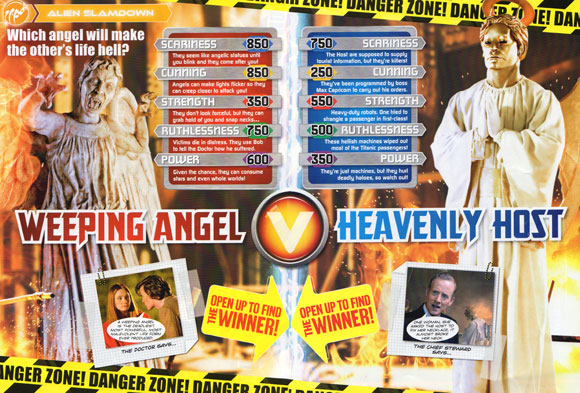 BBC Magazines' Head of Partworks, Ceri Murray, said: "There is a huge appetite among the pre-teen audience for the Doctor Who brand, as demonstrated by the success of our weekly Doctor Who Adventures magazine. Building on the success of Top Gear Turbo Challenge – our first ever partwork – Doctor Who: Monster Invasion gives fans the chance to learn more about the monsters from their favourite show through 'collectables', which are hugely popular with this age group."
The test magazines featured "top tens" on various subjects…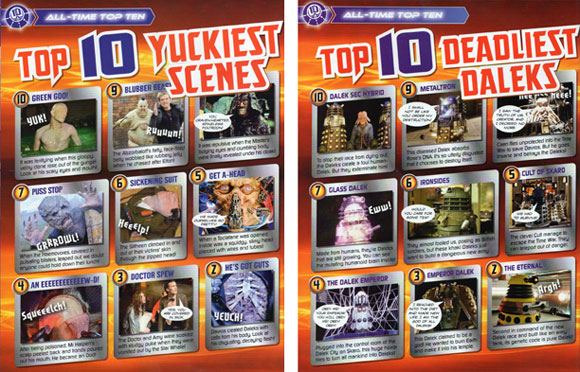 Doctor Who: Monster Invasion is being distributed by Seymour and will available from all good retailers.
Sign-up Here for news and notification about the launch and to receive a regular Doctor Who Monster Invasion newsletter.
Start collecting the awesome NEW Doctor Who Monster Invasion and build up a mega-monster magazine and cool trading card collection. Every issue comes with a pack of nine trading cards and is bursting with gross alien facts, monster slamdowns and puzzles! Learn how to play brilliant games with your cards and how to use them on the Doctor Who Monster Invasion website, to bring your 3-D cards to life and unlock brilliant game bonuses! This new partwork will be launched soon, so pre-order now and be one of the first to receive it!

As with doctor Who adventures we will keep you up to date each fortnight on the latest magazine.
The cover of issue one…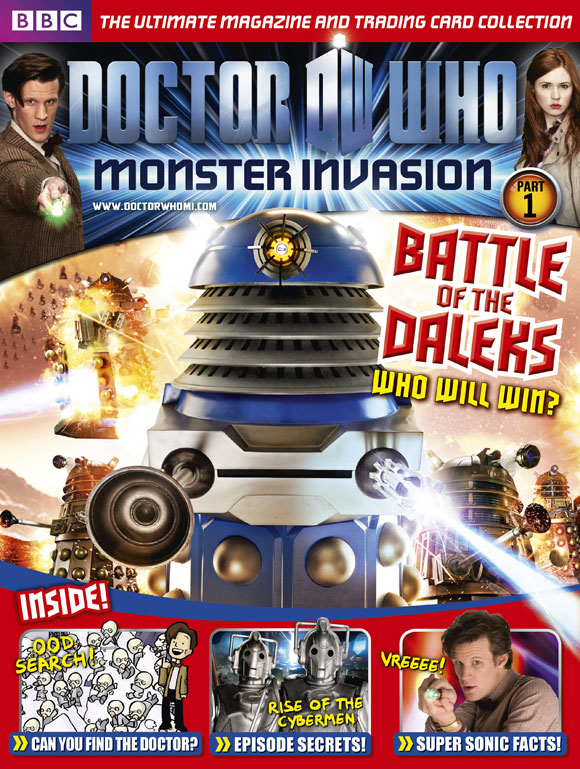 Will you be buying Monster Invasion Magazine?…