Monster Invasion Magazine Issue 14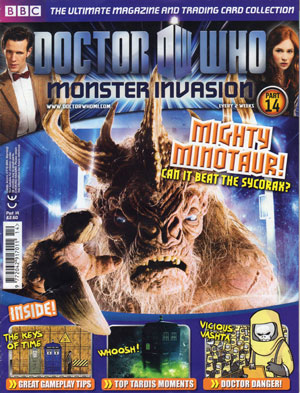 Monster Invasion Magazine Issue 14
Start collecting the awesome NEW Doctor Who Monster Invasion and build up a mega-monster magazine and cool trading card collection.
You can subscribe Here on the official site where you will find all you need to know about Monster Invasion magazine.
In This issue…
*Top 10 Tardis moments
*Chameleon Arch
*Minotaur V Sycorax
*The Pandorica Opens
*Where's The Doctor – Bio lab break out
*G is for Graske and much more
There are 52 fortnightly issues to collect. Part 1 is £1.50, thereafter it's £2.60 though you can also buy the card packs separately at retail at £1.50 per pack of nine cards.

Doctor Who Monster Invasion Extreme is the second set and contains 180 new cards featuring all the latest monsters, characters and adventures from the series, and includes a new and truly terrifying lenticular infinite card. This brings a combined total of 345 cards.