Doctor Who 1st Doctor 8-Inch Action Figure (UK)
Doctor Who First Doctor 8-Inch Action Figure

Available to order from www.forbiddenplanet.com or www.forbiddenplanet.co.uk

Available to order from www.entertainmentearth.com
William Hartnell's First Doctor stands about 8-inches tall and features real fabric clothing, accessories, and multiple points of articulation. Ages 14 and up.
Travel through time with this unique collectible retro-style First Doctor action figure!
Bif Bang Pow! is proud to introduce our First Doctor 8-inch scale EMCE action figure in a nice printed carded blister!
Limited quantity available!
Edition Size: 560 pieces only!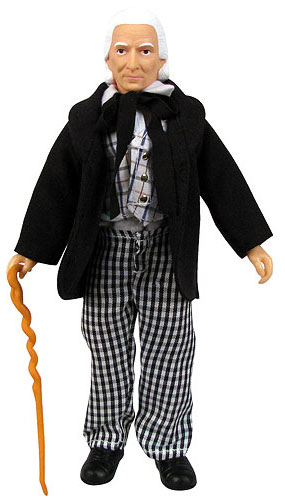 The First Doctor is easily identified in his fancy buttoned vest, black coat, black-and-white checkered pants, and black shoes, carrying his walking stick. Fans of William Hartnell and the exciting adventures that first brought Doctor Who to the world will welcome him into their collection with open arms!
Produced by the BBC, Doctor Who is the longest-running sci-fi TV series in the world.
The award-winning show presents the adventures of a time traveler known simply as "the Doctor."
Along with his companions, this mysterious Time Lord journeys through time and space using his TARDIS, which appears from the outside to be an ordinary police phone booth.
---

Also Available…
Doctor Who 1st and 11th Doctor 8-inch Action Figures in Tin Tote – Convention Exclusive
Entertainment Earth Convention Exclusive! The wait is over. Bif Bang Pow! is proud to introduce our First Doctor and Eleventh Doctor 8-inch scale EMCE action figures in an incredible and exclusive way! This Doctor Who 50th Anniversary Tin Tote features plenty of authentic detail and imagery that spans 50 unforgettable years of Doctor Who, from the First Doctor to the Eleventh Doctor to the iconic TARDIS and beyond!


Available to order from www.forbiddenplanet.com

If you are in the USA This item can be ordered from www.entertainmentearth.com