Doctor Who Jungles of Mechanus 5.5″ Dalek Set
---



This item has sold out but you could keep checking www.character-online.com
Alternatively you can search for this item at www.ebay.co.uk or check www.amazon.co.uk
An ebay seller also has items for customs such as Claws and Cutting Arms
USA /Australian/ Outside of the EU buyers will have the VAT deducted. The total USA delivered cost seems to be around $45 or even less depending on location.
This unique set includes 2 x highly detailed 5.5 inch scale Daleks with points of articulation, and comes beautifully presented in Heritage style Doctor Who branded packaging with specially created insert. A must have for all Doctor Who fans and collectors.
Way back in 1965, a six-part First Doctor story entitled 'The Chase' became famous in the eyes of Doctor Who fans for being special in many ways. It featured some unique 'guest' Daleks seen in Episode Three and Five. The exclusive Jungles of Mechanus Dalek Figure Set, has been created to offer something unique to delight fans and collectors and to pay homage to the unique Daleks seen onscreen. 'The Chase' storyline follows The First Doctor and his companions Ian, Barbara and Vicky who are forced to flee through time in the TARDIS after they learn that a group of Daleks, with their own Time Ship are following them with orders to exterminate!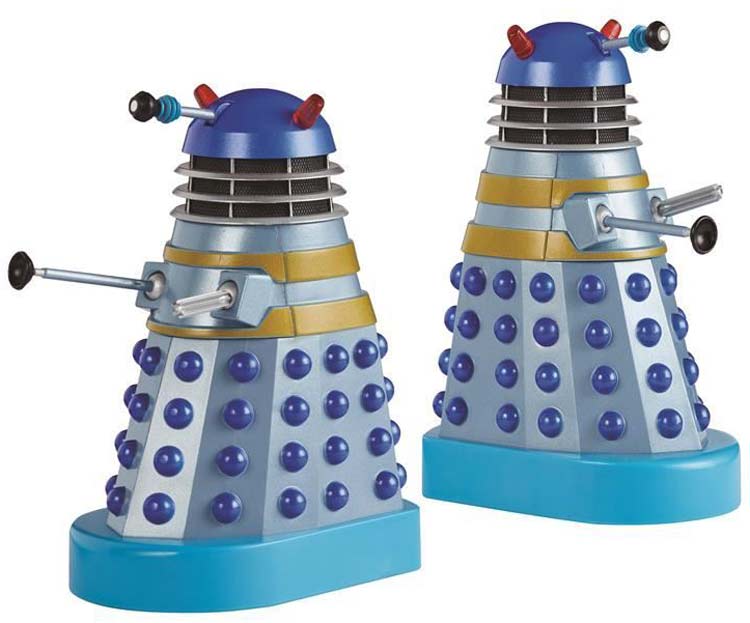 An epic chase through space and time ensues, starting on the Planet Aridius and then continuing through locations including the Empire State Building, the 'Marie Celeste' ship, and even an old haunted house populated by classic horror characters. Heading to a final confrontation, the TARDIS lands on the Planet Mechanus, where the Daleks arrive shortly afterwards. Pursued by multiple Dalek patrols through the dense and aggressive Mechanus jungle, the travellers eventually come upon a strange metallic city suspended high in the sky which belongs to an equally evil robot species known as the Mechanoids.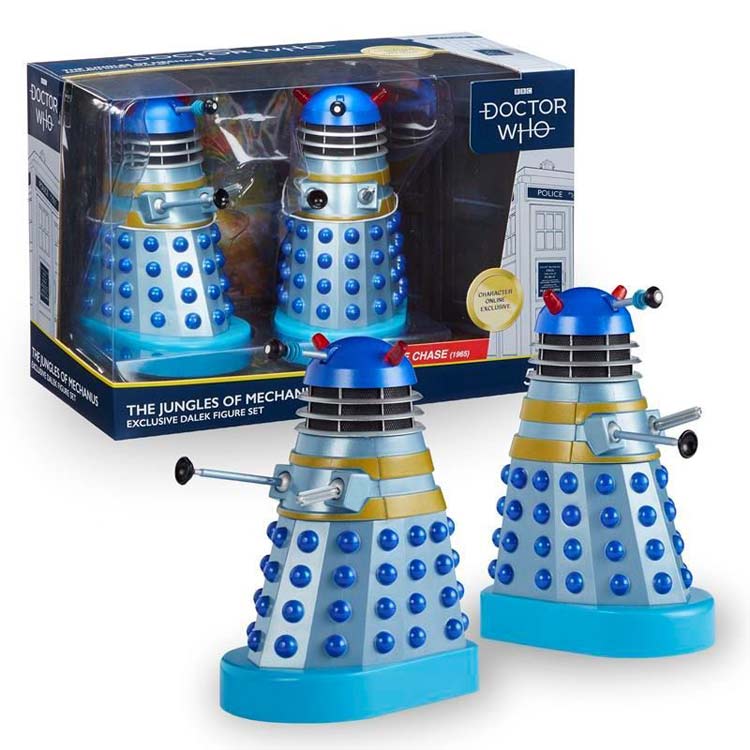 Al Dewar, Character Options' Head of Product Development, went on to explain why for him it holds a special place in his heart.

"Firstly it's the final adventure for the last of the original TARDIS companions, Ian and Barbara but it also features the first and last appearance of a race of robotic creatures the Mechanoids"
"Dalek aficionados will also know that it marks the appearance of some rather special 'guest' Dalek props that were seen in Episodes 3 and 5. At the time of filming the BBC were short of Dalek props having only three left. New Daleks were commissioned, but to fill the gap, they hired three Dalek props from the 'Doctor Who and The Daleks' movie.

"These 'guest' Daleks were chosen because they had sucker arms which matched the Daleks from the BBC series and two are seen in altered form, with their deep skirt bases and light covers removed. The second and more exciting appearances however, are two unaltered props glimpsed several times as part of the Dalek patrols pursuing the TARDIS crew through the Jungle.
"As fans will know, we've introduced the Dalek Twin pack sets starting with 'The Daleks' and 'The Dalek Invasion of Earth' this year which begin to chart the chronological TV appearances of the Doctors greatest and oldest enemies. So, it was a fitting next step therefore to announce a new and unique Dalek Two figure Set which neatly dovetails into that series.

"It is these special 'guest' Daleks that we present here in our new Online Exclusive. With their distinctively different light covers and skirt bases along with unique metallic colours, this set brings the fans and collectors a one-off unique TV Dalek Action Figure never produced before."