Doctor Who DVD Files Issue 82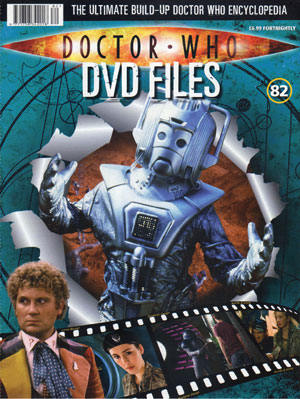 Doctor Who DVD Files Issue 82
This 82nd edition of The DVD Files contains the classic story Attack of The Cybermen.
Available every fortnight, the magazine builds up into the ultimate Doctor Who Encyclopaedia."Doctor Who DVD Files is something unique – it's not just a chance to collect every episode of the series since the Doctor's return, the pull-apart magazine is incredibly ambitious.
Every fortnight you get pages packed with information and specially commissioned artwork.
It is currently planned to extend the DVD files to at least 110 issues.
In this issue…
ATTACK OF THE CYBERMEN
The Doctor and Peri battle the silver giants on Telos.
CYBER GUARD
If you go down to Stonehenge you're sure of a big surprise…
OSTERHAGEN KEY
Martha Jones held the key to doomsday in her hand.
AMY POND
Little Amelia grew up to be a traveller in space and time!
SONTARAN CONCEPT ART
Check out the designs that brought the clone warriors to life.

RAISING ALIENS
Adipose, Daleks, stingrays and the Master – all in one year!

CASTROVALVA
Visit the city that was really a mathematical trap.
LORNA BUCKET
Meet the girl who ran with The Doctor


AUNTIE AND UNCLE
The "patchwork people" of house were not what they seemed
For more information and how to subscribe go to the DVD Files website Here.
To order individual back issues click Here