Doctor Who: Death To The Daleks DVD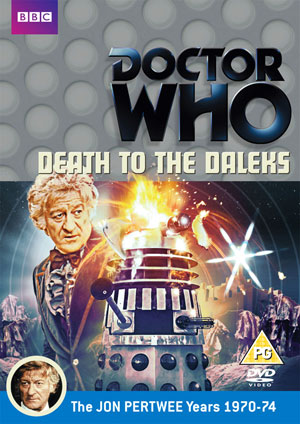 Doctor Who: Death To The Daleks DVD
A power failure in the TARDIS draws it off course, and the Doctor and Sarah Jane Smith end up stranded on the bleak planet of Exxilon.
They soon meet members of an Earth expedition in a similar situation.
The humans are searching for a rare mineral, but first they must find out what is draining their power and avoid what's inside another grounded spaceship – the Doctor's oldest enemies, the Daleks…
Due for release on 18th June 2012
Special features…

*Commentary – with actors Julian Fox (Peter Hamilton), Dalek operator Cy Town, director Michael E Briant, assistant floor manager Richard Leyland, costume designer Rowland Warne and special sounds maestro Dick Mills. Moderated by Toby Hadoke.
*Beneath the City of the Exxilons – Cast and crew look back on the making of this story. With actor Arnold Yarrow, Julian Fox, Michael E Briant, Richard Leyland, Rowland Warne and fan and Dalek voice artist Nick Briggs.
*Studio Recording – A rare glimpse into the production of a Third Doctor story.
*On the Set of Dr. Who and the Daleks – Behind the scenes on the first Dalek film in 1965.
Radio Times listings (DVD-ROM)
*Programme subtitles
*Production information subtitles
*Photo gallery
*Coming soon trailer
*Digitally remastered picture and sound quality
Original VHS Cover and information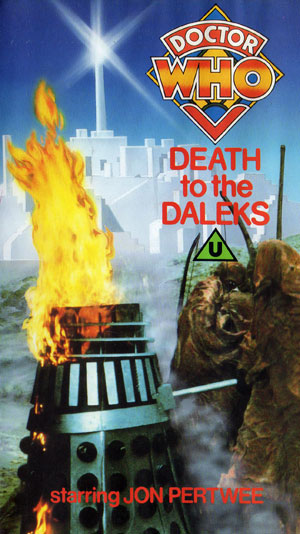 In this exciting space adventure the Doctor (Jon Pertwee) is forced into a desperate race against time…
An inexplicable power-loss strands the Tardis on the sinister planet Exxilon where the Doctor meets an expedition from Earth seeking a rare mineral that can cure the virulent space plague that threatens all human life throughout the galaxy. Nearby Sarah discovers a mysterious Citadel but is captured by the savage Exxilons who prepare her for sacrifice…
The Doctor must uncover the secrets of the ancient Exxilon City, locate the source of the power-drain, save Sarah and help the Earth expedition. But his plans are threatened by new arrivals on the planet – the Doctor's oldest and deadliest enemies -the Daleks!
Produced by Barry Letts
Directed by Michael Briant