Doctor Who: Cyberman Box Set DVD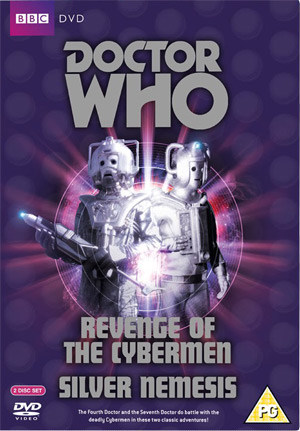 Doctor Who: Cyberman Box Set DVD
Revenge of the Cybermen: The time ring takes the Doctor, Sarah and Harry back to Nerva, but to a period many thousands of years earlier than their previous visit. This is Voga, also known as the planet of gold as that metal can be found in abundance there. The three friends learn that a space plague has killed all but a handful of Nerva's crew. A visiting civilian scientist named Kellman is in fact a traitor working with a group of Cybermen who want to destroy Voga as gold dust can coat their breathing apparatus and suffocate them. Can the Doctor stop them?
Silver Nemesis: The Doctor and Ace visit England in 1988, where three rival factions – the Cybermen, a group of Nazis and a 17th Century sorceress named Lady Peinforte – are attempting to gain control of a statue made of a living metal, validium, that was created by Rassilon as the ultimate defence for Gallifrey. Can the Doctor plays the three factions off against one other and eventually defeat to the Cyber Leader?
Special Features
Silver Nemesis:
Commentary with actors Sylvester McCoy and Sophie Aldred, director Chris Clough and script editor Andrew Cartmel.
Industrial Action – cast and crew look back at the making of this story. With actors Sylvester McCoy, Sophie Aldred and Gerard Murphy, director Chris Clough, writer Kevin Clarke, script editor Andrew Cartmel, stunt arranger Nick Gillard and musician Courtney Pine.
Deleted and Extended Scenes.
Trails and Continuity – BBC1 trails and continuity announcements from the story's original transmission.
Photo Gallery

Revenge of the Cybermen:
Commentary with actors Elisabeth Sladen and David Collings, producer Philip Hinchcliffe.
The Tin Man and the Witch – a look back at the making of the story, with director Michael E. Briant, incoming producer Philip Hinchcliffe and outgoing producer Barry Letts.
Location Report – New Doctor Tom Baker is interviewed by BBC News on location at Wookey Hole during the location shoot for the story.
Cheques, Lies and Videotape – in the days before official VHS and DVD releases, Doctor Who fans had no option but to swap and trade episodes with other fans, often for extortionate sums of money. Featuring interviews with fans Jamie Wells, Paul Jones, Dave Hankinson, David Palfreyman, Alison Lawson and Damian Shanahan.
Photo Gallery.
Release date: 09/08/2010