Doctor Who Adventures issue 348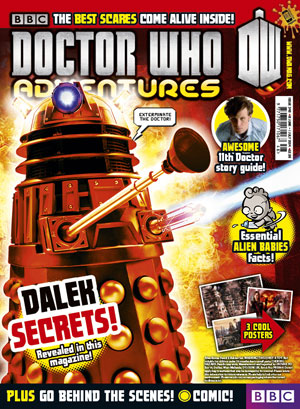 Doctor Who Adventures issue 348
WHAT IS THE BIGGEST SCARE IN DOCTOR WHO?
The latest issue of BBC Doctor Who Adventures magazine is out now and this time the magazine takes a look at the biggest and scariest scares in Doctor Who.
The team has uncovered the grossest and yuckiest things from the series – and they want to see if readers agree with their Top 10 choice.
The magazine also comes with a cool stationery set featuring the Alien Babies.
Plus there's:
· A guide to the Eleventh Doctor's episodes.
· Fact file about the Alien Babies.
· Essential cut-out-and-keep Dalek info.
· Make a Vortex Manipulator.
· Strax's Guide to Ood.
· Danger and surprises for the Doctor and Clara in the comic strip – and watch the story come alive with the free app Blippar.
· Fantastic posters!
· Win a bike, Pokémon goodies and an iPad!
· Plus puzzles and loads of the usual monster fun…
Issue 348, on sale 18 June – 1 July 2014, priced £2.99. Don't miss out!
You can subscribe to Doctor Who Adventures at www.uniquemagazines.co.uk.