Doctor Who Adventures issue 345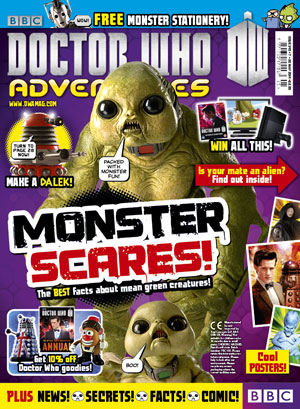 Doctor Who Adventures issue 345
GET 10% OFF DOCTOR WHO GOODIES WITH THE LATEST EDITION OF BBC DOCTOR WHO ADVENTURES MAGAZINE
The latest issue of BBC Doctor Who Adventures magazine is out now.
Inside you'll find out how to get money off all Doctor Who goodies available at BBCSHOP.COM – so don't miss it.
The issue is packed with monster scares – including facts about those well-known hunters, the Slitheen.
You'll also get:
· A FREE monster stationery set!
· Fun with the Alien Babies!
· Interview with a sinister Silurian.
· Win loads of goodies – including a 32inch TV, PS4, Doctor Who Series 7 DVD box set and Lego Ninjago sets.
· Find out if your mate is a monster. (This could save you life!)
· Strax's guide to the Doctor's friend Clara.
· Make a Dalek!
· Secrets about the Eleventh Doctor.
· Things get chilly in an exciting comic strip featuring an unseen adventure with the Eleventh Doctor and Clara.
· All this, plus 3 posters, puzzles and loads of monster fun…
Issue 345, on sale 7 – 20 May 2014, priced £2.99. Make sure you get your copy today…
You can subscribe to Doctor Who Adventures at www.uniquemagazines.co.uk. Worldwide shipping is available.