Doctor Who Adventures issue 298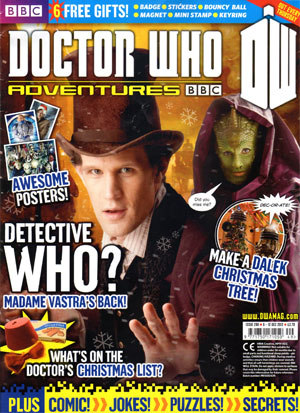 Doctor Who Adventures issue 298
Is it snowing out there?
Let me look. No? Well, that can't be right. It's winter, so there has to be snow.
Christmas isn't Christmas without it, don't you think? Maybe I'll add a snow setting to the sonic just For fun.
That would be handy! Instant snow at the flick of a switch Then we can ALL go sledging, have a massive snowball fight and make Cybersnowmen… that would be cool.
See you in a week!

Also inside…
Cyber news
Chrimbo geronimo
Dino search
Monster texts
Dalek Christmas tree
Snow jokes
Upload
On the cards (comic)
Making angels and more…
This weeks issue comes with a mega Doctor set with badge, mini stamp, Tardis keyring and more.
Doctor Who Adventures is a weekly magazine for people who love Doctor Who.
The magazine immerses readers into the world of the Doctor and his friends, taking them on an adventure into time and space every week!
It is packed full of monster and creature fact files, brilliant posters, behind-the-scenes secrets, competitions, comic strip action and puzzles.
There's always loads of excitement, action, adventure and fun! Doctor Who Adventures is a must-have for young fans of the successful BBC series!
Next weeks issue comes with a 2013 calendar, stickers, monster invasion cards, bow tie and mystery gift…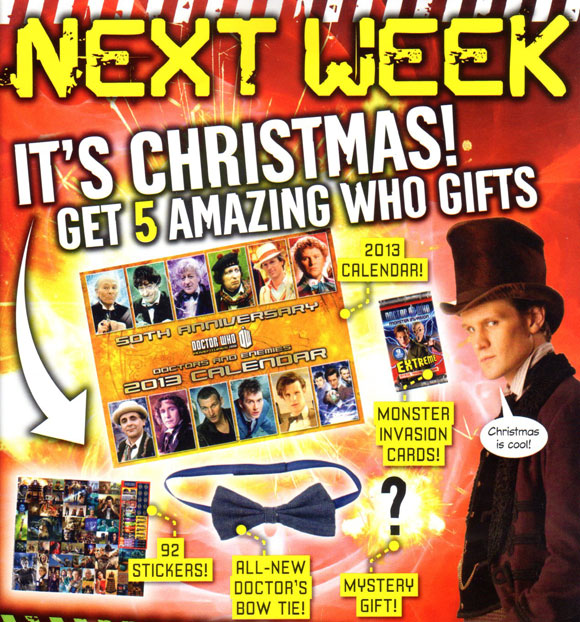 If you are interested in subscribing, or to see various offers on the Magazine go to the BBC Doctor Who Adventures page Here. You will never miss an issue and its delivered straight to you.
Well done to Sam Bentley who is this weeks top upload…