Doctor Who Adventures issue 282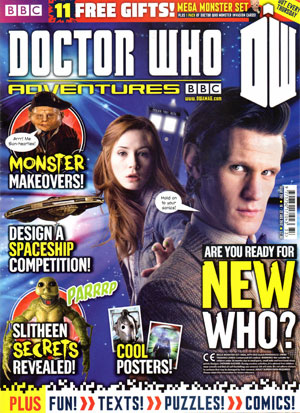 Doctor Who Adventures issue 282
It's been an interesting meek in the Cafegerji System. I turned up to watch the famous Dragon Meteor tear through their crimson skies. It only happens once every seven trillion years, so, as you can imagine, I didn't want to miss it.
I certainly didn't miss it as the TARDIS materialised around it and the meteor got lodged in my bathtub.
It took Five plumbers nine Cafegerji hours to get it out and on its may again. Sorry about that!

Also inside…
*Devil Darvill
*Who's Who
*Plan your own Doctor Who Adventure
*Monster makeovers
*24 hour news invasion (comic)
*companions and more
Plus… Design a spaceship!…

We're looking for the best designs for a brilliant new spaceship. Our favourite one will be made into a cool clay model and displayed at the Doctor Who Experience, in its brand-new home in Cardiff, as part of a new Doctor Who Adventures display.
How awesome is that? What's more, the winning spaceship will feature in an exciting comic strip in Doctor Who Adventures! Your design will actually be in a story with the Doctor! So get inventing and draw a picture of your spaceship. Plus, let us know who it belongs to and why it's special.
This weeks issue, priced £2.60, comes with a mega monster set including stamps, bubble stickers, keyring and more. Also included are more monster invasion cards…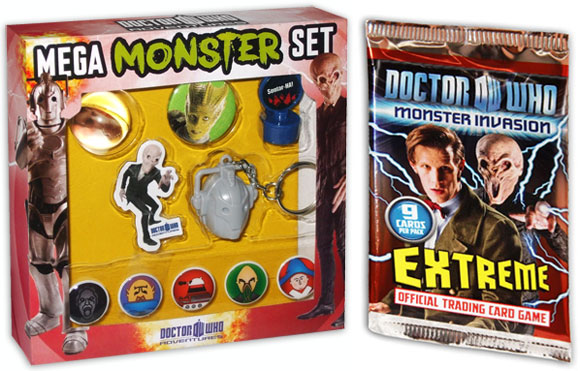 Doctor Who Adventures is a weekly magazine for young boys and girls who love Doctor Who.
The magazine immerses readers into the world of the Doctor and his friends, taking them on an adventure into time and space every week!
It is packed full of monster and creature fact files, brilliant posters, behind-the-scenes secrets, competitions, comic strip action and puzzles.
There's always loads of excitement, action, adventure and fun! Doctor Who Adventures is a must-have for young fans of the successful BBC series!
This magazine is written for and aimed at children in the 6-12 years old age range. It is specifically targeted at a core age group of 7-8 year olds. If you are interested in subscribing, or to see various offers on the Magazine go to the BBC Doctor Who Adventures page Here. You will never miss an issue and its delivered straight to you.
Next weeks issue comes with a Dalek attack set…