Doctor Who Adventures issue 280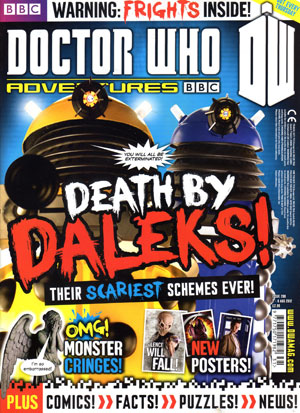 Doctor Who Adventures issue 280
Are you all glued to your tellies watching the Olympics?
Strictly speaking I don't normally like sport. Too much lunging. And bow ties don't go well with shorts.
But the first Games in Ancient Greece were a belter! I took bronze in the 500m chariot race and a gang of Auton Romans tried to sneak in to the competition.
It was so hot their plastic Feet melted and they got stuck to the ground! Have a good week and beware of stray panthers!

Also inside…
*Doctor forever
*Death by Daleks
*Crazy animal giggles
*The scorching quiz
*Who are you kidding
*Companions
*Dungeon of the lost (Comic)
*Top torch and much more…
This weeks issue, priced £2.99, comes a stationary tin, pencils,pen, yo-yo and a special Monster invasion card…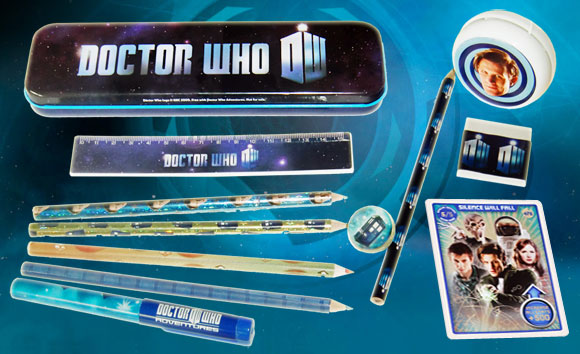 Doctor Who Adventures is a weekly magazine for young boys and girls who love Doctor Who.
The magazine immerses readers into the world of the Doctor and his friends, taking them on an adventure into time and space every week!
It is packed full of monster and creature fact files, brilliant posters, behind-the-scenes secrets, competitions, comic strip action and puzzles.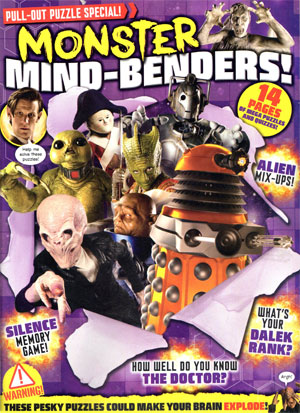 Also included this week is a monster mind bender pull out special featuring…
*Spot the difference
*Monster maze
*Crazy crossword
*Millions of monsters
*Dalek rank
*Monster mix up
*Odd ones out and a lot more…
There's always loads of excitement, action, adventure and fun! Doctor Who Adventures is a must-have for young fans of the successful BBC series!
This magazine is written for and aimed at children in the 6-12 years old age range. It is specifically targeted at a core age group of 7-8 year olds.
If you are interested in subscribing, or to see various offers on the Magazine go to the BBC Doctor Who Adventures page Here. You will never miss an issue and its delivered straight to you.
Next weeks issue comes with either a hero's or villains folder set and 2 packs Monster invasion cards…