Doctor Who Adventures issue 209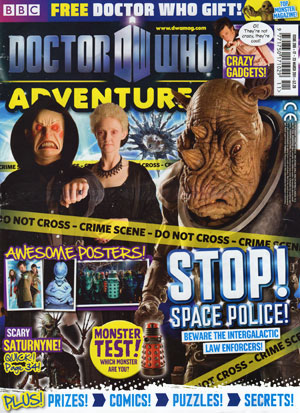 Doctor Who Adventures issue 209
It isn't easy being a cop -as we find out from a sneaky peek through the Judoon's case files.
Meanwhile, The Doctor, Rory and Amy battle Romans and robots in our thrilling comic strip and here's an amazing competition to design a new monster that will be shown at the Doctor Who Experience!
Also in this issue…
*Geronimo – Craig comes back
*Monster Me
*Crazy gadget
*Swapping bodies!
*Golden slumbers and much more.
This issue comes with a surprise gift.
Don't forget to check out the Doctor Who Adventures new website www.dwamag.com to keep up to date with the very latest news from the Time Lord.