Doctor Who Adventures 164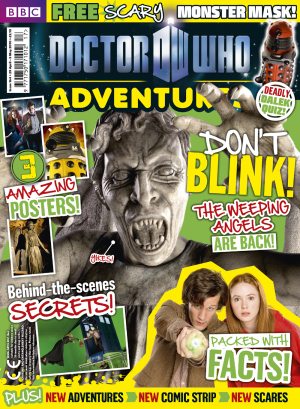 DON'T BLINK!
This week Doctor Who Adventures looks back at The Time of Angels and the chilling return of the Weeping Angels to Doctor Who.
There's a chance to test your knowledge of the Doctor's oldest and deadliest enemies in this week's Dalek quiz.
We also go behind the scenes to find out how the Who team made River Song fall through space.
Don't forget to check out the Doctor Who Adventures new website www.dwamag.com to keep up to date with the very latest news from the Time Lord.
All this, plus:
* FREE Weeping Angel mask!
* Win the chance to be editor of Doctor Who Adventures for a day
* A sneak peak at episode five, Flesh and Stone
* Subscription offer – subscribe today and get your first four issues for £1, then 25% off of a year's subscription
Issue 164 of Doctor Who Adventures magazine is out on Thursday 29 April, price £2.10