Doctor Who 50th Anniversary Steelbook
Available to order while stocks last from www.amazon.co.uk
Also available to order from www.zoom.co.uk, www.base.com and www.hive.co.uk
You can also check to see if any retailers are selling this via www.ebay.co.uk
This four-disc limited edition collector's set includes special episodes and over 7 hours of extras:
• The Name of the Doctor
The Series 7 finale, starring Matt Smith. The Doctor has a secret he will take to his grave. And it is discovered…
• The Night of the Doctor
Special mini-episode 'The Night of the Doctor' to reveal the Doctor's dark chapter.
Starring Paul McGann, this BBC iPlayer exclusive will for the first time ever reveal what became of the 8th Doctor. On the eve of his most terrible battle, the Time Lord is faced with a choice that will change the course of his life. The darkest of days are about to begin.
The Doctor has always been a man of secrets – and now they can be told…
• The Day of the Doctor
The Day of the Doctor stars Matt Smith, David Tennant, Jenna Coleman, with Billie Piper and John Hurt. The Doctors embark on their greatest adventure in this 50th Anniversary Special: in 2013, something terrible is awakening in London's National Gallery; in 1562, a murderous plot is afoot in Elizabethan England; and somewhere in space an ancient battle reaches its devastating conclusion. All of reality is at stake as the Doctor's own dangerous past comes back to haunt him.
• The Time of the Doctor
The Eleventh Doctor, Matt Smith, takes the controls of the TARDIS for the last time in The Time of the Doctor. Orbiting a quiet backwater planet, the massed forces of the universe's deadliest species gather, drawn to a mysterious message that echoes out to the stars. And amongst them – the Doctor. Rescuing Clara from a family Christmas dinner, the Time Lord and his best friend must learn what this enigmatic signal means for his own fate and that of the universe.
• An Adventure in Space and Time
On November 23rd 1963, a television legend began when the very first episode of Doctor Who was broadcast in the UK on BBC One. Fifty years later, An Adventure in Space and Time brings to life the story of the show's creation and the role in its success of the first producer, director and, of course, the very first Doctor – William Hartnell.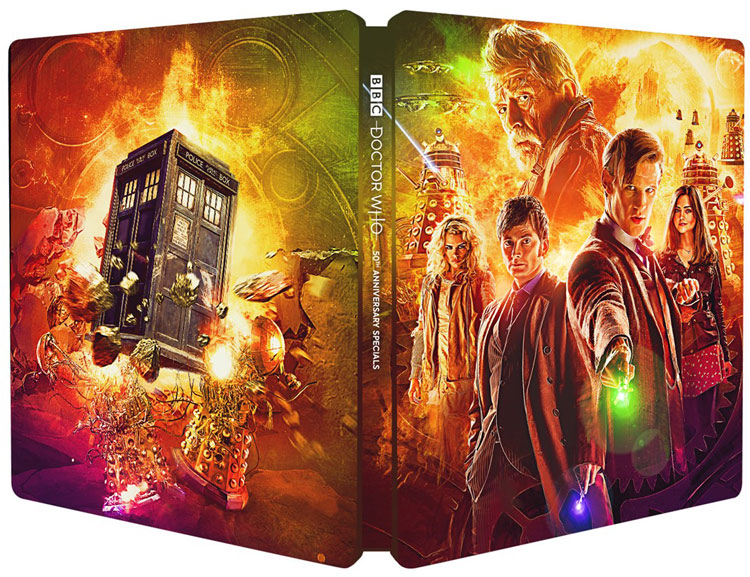 In addition to over 7 hours of extras, including: • The Name of the Doctor Behind The Scenes
• Doctor Who – The Ultimate Guide
• Behind the Lens: The Day of the Doctor
• Script to Screen: 50th Read-through
• The Last Day
• Tales from the TARDIS
• Cinema Intros: The Doctor / Strax
• Trailers
• Behind the Lens: The Time of the Doctor
• A Night with the Stars: The Science of Doctor Who
• Deleted scene
• Farewell to Matt Smith
• William Hartnell: The Original
• The Making of AAISAT
• Reconstructions: Scenes from An Unearthly Child / The Pilot / Regeneration
• Deleted Scenes: The Radiophonic Workshop / Verity's Leaving Party
• Farewell to Susan
• Festive Greeting
• Title sequences
• The Five(ish) Doctors
• Doctor Who at the Proms 2013