Doctor Who 5.5″ 13th Doctor Regeneration Set
Stocks are now being sent out in batches over several days. Some people have already received their orders but pick up and postal delays may mean a further wait for some.
Despatch emails are now being sent and order status updated although many have already had the set prior to this.
---
Available to order while stocks last from www.character-online.com
Character Options reveals its next Online Exclusive, The Doctor Who Thirteenth Doctor Regeneration set
This fabulous collector's set, Doctor Who Day, for delivery in January 2023
Character Options has revealed details of its latest exclusive Doctor Who collectors set titled 'The Regeneration Set.' The set takes its inspiration from the fantastic finale of 'The Power of the Doctor' featuring the Thirteenth Doctor's final story. The episode debuted on Sunday 23rd October 2022 and stunned fans and news wires alike as the face of the Fourteenth Doctor was revealed after the Thirteenth Doctor's epic, and final battle.
This new set is a fabulous and hugely distinctive set unlike anything produced previously and will hopefully firstly surprise fans and collectors alike and then delight them with its details and uniqueness.
The figures represent a one of a kind treat for collectors, as the set contains not one but two brand new Doctor Who action figures in the 5.5 inch scale available exclusively in this set and nowhere else.
First up is the Thirteenth Doctor in the 'taunting' multi-Doctor outfit, inspired by her past incarnations after a forced regeneration into the Master. This figure of the Thirteenth Doctor has been modified to be correct to the detailed look of the Doctor's outfit in this story with details from the Second, Fourth, Fifth, Seventh and Tenth Doctors' iconic outfits replicated in detail.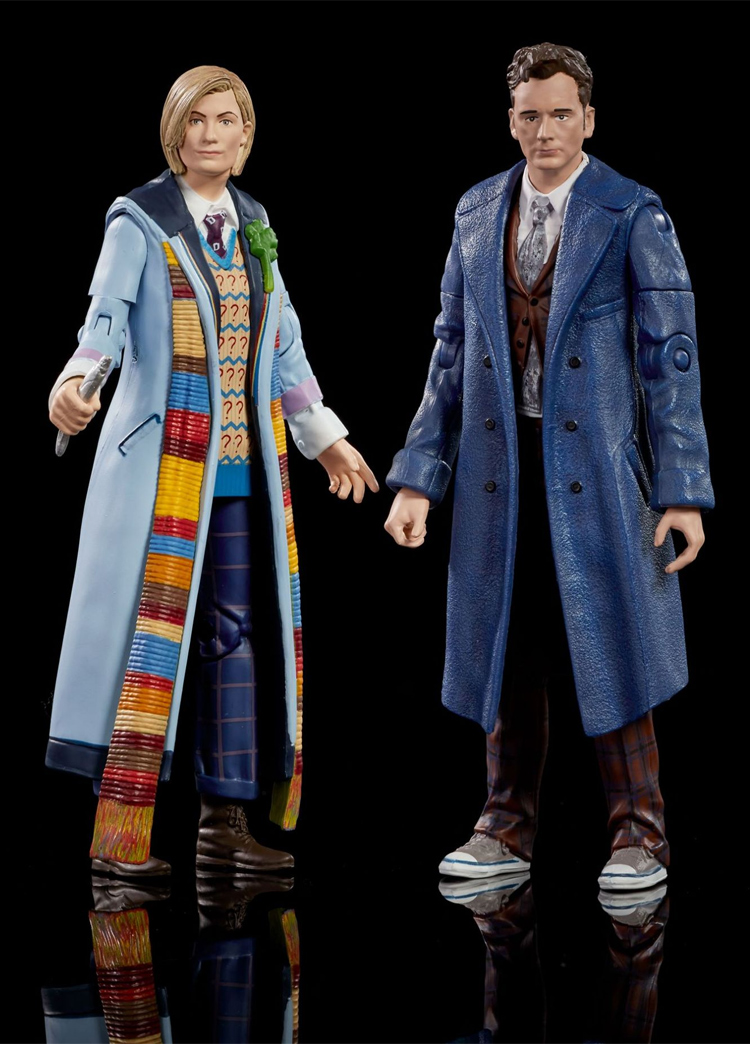 The second figure in the set introduces a brand new figure of the Fourteenth Doctor which features his brand new look including the head sculpt with unique hair style, as well as his outfit which features, the textured dark blue calf length coat, rumpled plaid waistcoat and trousers, heavy weave silver tie, and warm grey plimsoles. This figure also includes ball jointed shoulders for added articulation.
The packaging alone is exceptional featuring a brand new 'Fifth panel window box' format with a unique graphic look, which feels very unlike any collector pack to date, and has a physical format which would not look out of place on shelf or in a display cabinet. The pack graphics have been designed to look bold and fresh and feature a bright white matt card finish with a high gloss UV overprint that picks out key details including the new Doctor Who logo. The flip open front panel has a cut-out lozenge shape which reveals the set name and then leads us into the pack proper. Opening the front panel we find on the reverse side, a brief bio of the characters, and a short story synopsis, and on the right is a window displaying both figures against a swirling Vortex themed background.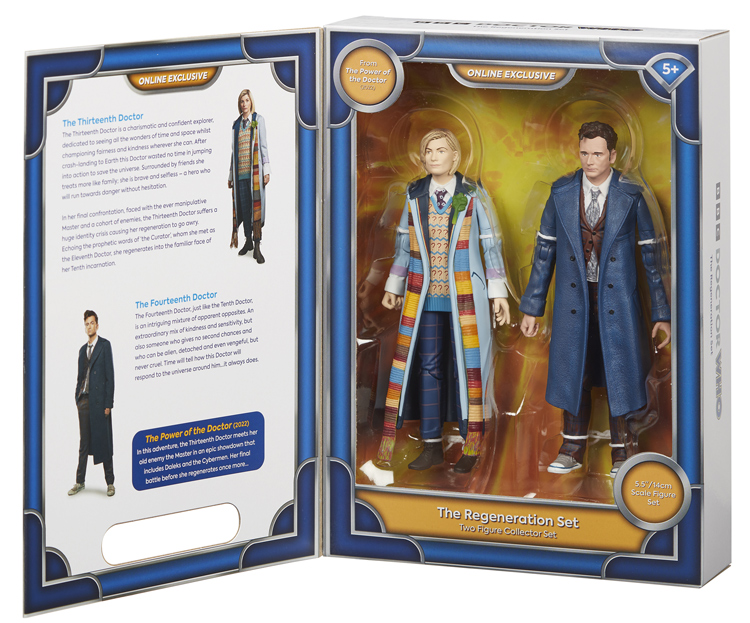 Al Dewar Creative Director for Character Options commented: "We all felt it was a genuine delight to see the Thirteenth Doctor's era end on such a powerful note and as hard as it must have been to follow that, the genuine surprise reveal of her next incarnation in the form of the Fourteenth Doctor was mind blowing!
"Obviously we had a huge help from BBC Studios and Bad Wolf Studios in creating this new item and everyone has been massively invested in bringing a set to fans that really stands out as a celebration of this iconic part of Doctor Who history. We therefore cannot thank Russell T Davies, the brand team and BBC Studios enough for their huge help. It's a real testament to everyone involved that this particular set has turned out to be such an amazing item and presented in this frankly shockingly fabulous packaging. The results speak for themselves and this is a real unique opportunity to add something truly special to your Doctor Who Collection."
Set contents are as follows:
Thirteenth Doctor Action Figure with Sonic Screwdriver accessory
Fourteenth Doctor Action Figure
The Regeneration Set is a true one off and limited in supply, making it yet again a true exclusive and demand for this two pack is likely to be high. The set will be available to pre-order today at a retail cost of £29.99 which includes post and packing. The sets are due to be in stock to our warehouse in very late December and will be dispatched shortly after Christmas to avoid any delays in the mail system which might affect our customers. Updates will be issued if anything happens that affects these dates.