Big Chief Studios 1:6 Scale First Doctor

Available to order in the UK from www.forbiddenplanet.co.uk

Also available to order in the UK from www.bigchiefstudios.co.uk

Available to order in the USA from www.entertainmentearth.com
The First Doctor had an unquenchable thirst to explore, and a knack of getting himself into trouble doing it. An exile from his homeworld, the Doctor wanders through space and time in his trusty TARDIS with his granddaughter Susan. Both a loving father-figure and a fierce opponent, he would often play deadly games with his foes. It was after preventing the Cybermen from absorbing the Earth's energy, and with his body "wearing a bit thin", that the First Doctor collapses to the TARDIS floor and begins his first regeneration.
Outfitted in flamboyant gentleman's attire, including a cape and Astrakahn hat, the First Doctor comes with numerous accessories including his horn handle walking cane, monocle and pipe. With eight interchangeable hands, to enable numerous poses and a light-up display base with the Gallifreyan symbol for one, the First Doctor 1:6 Scale Limited Edition is the definitive collectable for fans of the Time Lord.
To develop the most accurately scaled collector's figure, our artists studied countless reference photographs, to create a realistic and authentic character portrait of the First Doctor so memorably portrayed by actor William Hartnell. The Doctor's trademark costume was hand-tailored in exacting detail, together with his accessories.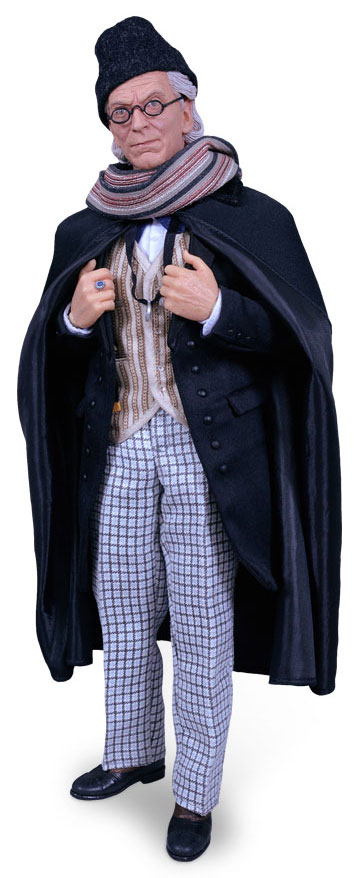 Officially licensed and authorised by BBC Worldwide, the First Doctor 1:6 Scale Limited Edition is produced in a worldwide edition of only 500 pieces. Each figure is numbered and includes an accompanying certificate of authenticity.
Specification
1 x 1st Doctor Head Portrait featuring an Authentic Likeness of William Hartnell
1 x Woollen Astrakahn Hat
1 x Long Striped Scarf
1 x Cape with Chain
1 x Frock Coat
1 x Patterned Waistcoat
1 x Patterned Trousers with Bracers (suspenders)
1 x White High-necked Shirt
1 x Cravat Neck Tie
1 x Pair of Spat Styled Shoes
1 x Pair of Socks Tubes (Partial)
8 x Interchangeable Hands
1 x Display Base with Illuminating Gallifreyan Symbol & Stand
Accessories
1 x Walking Cane
v1 x Monocle with Ribbon
1 x Pair of Spectacles
4 x Keys of Marius
1 x Dalek Time Core
1 x Fob Watch with Ribbon
1 x Pipe
1 x TARDIS Control Room Printed Card Backdrop (not shown)
Packaging
Product Size: H304.8mm (12″)**
Product Weight: 1.20 kg (2.65 lbs)**
Pack Size: W190mm (7.48″) x H360mm (14.17″) x D120mm (4.72″)
Carton Size: W196mm (7.72″) x H366mm (14.41″) x D126mm (4.96″)
Shipping Weight: 1.50 kg (3.31 lbs)**
Credits
Sculpting & 3D Digital Modelling Direction: Tony Leetham
Portrait Sculpt: Tony Leetham, Phil Robinson
Paint Decoration & Fabrication: Greggo
Product Photography & Packaging Design: Mark Andrews & Greggo
Special Thanks to: BBC Worldwide, Matthew Toffolo