Big Finish UNIT The New Series – Shutdown
Available to order from www.bigfinish.com
Kate Stewart and her UNIT team investigate and confront alien attacks on the planet Earth in the new 5 disc boxset.
2.1 Power Cell by Matt Fitton
On the trail of missing alien technology, Kate Stewart encounters the ambitious Felicity Lyme. Who are Cerberus – and what are they doing in the London Docklands?
2.2 Death in Geneva by Andrew Smith
With Tengobushi assassins on their tail, Kate and Osgood retreat to UNIT Command in Geneva. High in the mountains, Captain Josh Carter comes face to face with the enemy…
2.3 The Battle of the Tower by Andrew Smith
As London sleeps, an alien horde rises from the shadows. The Tower has been infiltrated – and UNIT must hold the line. At any cost. Lock and load…
2.4 Ice Station Alpha by Matt Fitton
Caught between human greed and an unstoppable alien power, Kate Stewart leads her forces on one last mission to the Antarctic. It's UNIT against the world….
Written By: Matt Fitton, Andrew Smith
Directed By: Ken Bentley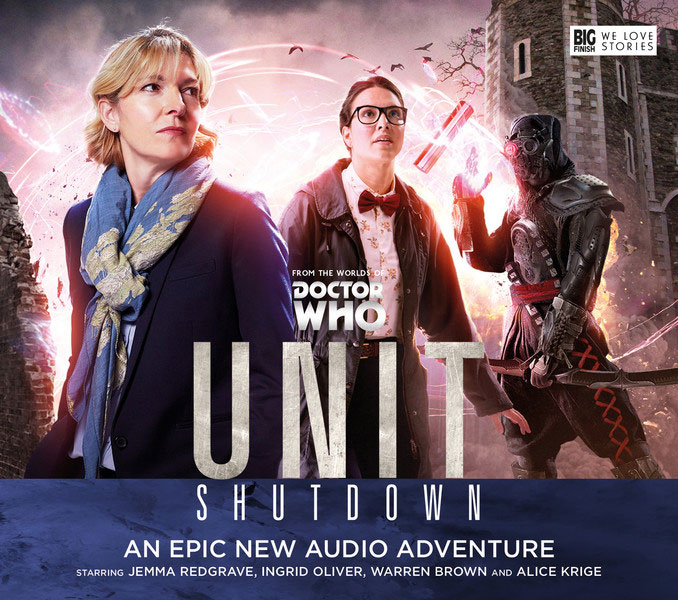 Cast
Jemma Redgrave (Kate Stewart), Ingrid Oliver (Osgood), Warren Brown (Sam Bishop), James Joyce (Captain Josh Carter), Alice Krige (Felicity Lime), Asif Khan (Jay Roy) Tyrone Huggins (Dr Kenton Eastwood), Nigel Carrington (Sir Peter Latcham), Beth Chalmers (Anna/Radio Announcer/Quizmaster), Harry Ditson (General Grant Avery), Dan Li (Dokan/Alien Leader), Akira Koieyama (Chiso/Tengobushi Assassins), Stephen Billington (Commander Bergam), Jot Davies (Sebastien/Majoy Disanto). Other parts portrayed by the cast.
Producer David Richardson
Script Editor Justin Richards
Executive Producers Jason Haigh-Ellery and Nicholas Briggs