Big Chief Studios 1:6 Scale 10th Doctor
Tenth Doctor 50th Anniversary Limited Edition
Get all the latest news from Big Chief Studios one thier Facebook Page of via Twitter
BIG Chief Studios are proud to announce the 50th Anniversary Tenth Doctor 1:6 Scale Collector Figure Pre-order.
The Tenth Doctor is ready to embark on his next time-travelling adventure, in his brown pinstriped suit and trademark trench coat, his ever-present Sonic Screwdriver by his side. The Doctor comes complete with numerous accessories including his spectacles, 3D glasses, fob watch, psychic paper wallet and water pistol. With eight interchangeable hands to adopt various poses and an illuminating display base, this is the ultimate collectable for fans of the Tenth Doctor.
The 50th Anniversary Edition is limited to only 1000 pieces worldwide and the 50th Anniversary Signature Edition ( sold out ) is limited to only 250 pieces worldwide. Both editions are exclusively available from www.bigchiefstudios.co.uk and will not be sold via other retailers.
Specification
1 x Tenth Doctor Head Portrait featuring an Authentic Likeness of David Tennant
1 x Trench Coat
1 x Brown Pin-striped Suit Jacket
1 x Pair of Brown Pin-striped Suit Trousers
1 x Pale Blue Shirt
1 x Patterned Neck Tie
1 x Pair of Training Shoes (Sneakers)
1 x Pair of Socks Tubes (Partial)
8 x Interchangeable Hands
1 x Display Base with Illuminating Gallifreyan Symbol & Stand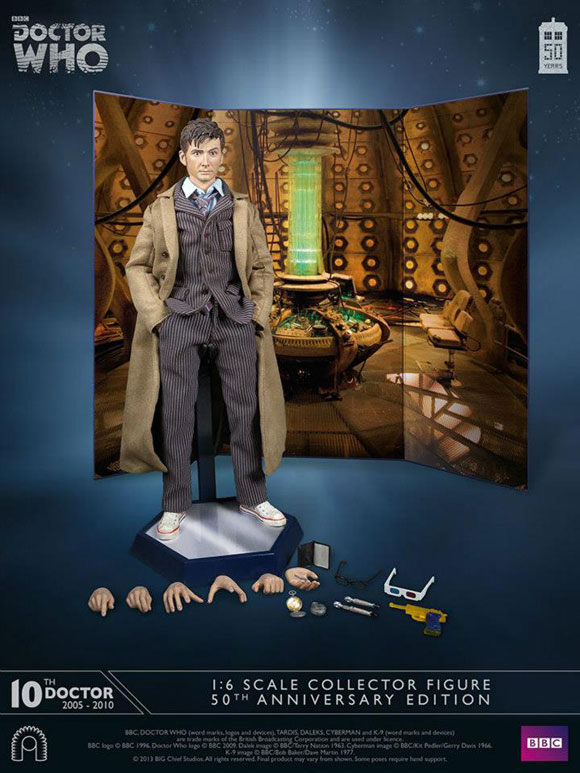 Accessories
1 x Sonic Screwdriver (Closed) *
1 x Sonic Screwdriver (Extended) *
1 x Wallet with Psychic Paper
1 x Pair of Spectacles
1 x Pair of 3D Glasses
1 x Water Pistol
1 x Time Lord's Fob Watch (Closed)
1 x Time Lord's Fob Watch (Open)
1 x TARDIS Control Room Printed Card Backdrop
NOTE: * Accessories do not have light-up features