Big Chief Studios 11th Doctor Series 7 Limited Edition
Limited Edition Size: 1000 Worldwide

Also available to order in the UK from www.bigchiefstudios.co.uk
Please check specification of USA products, some pictured accessories are Exclusive to Big Chief orders.

Available to order in the USA from www.entertainmentearth.com

Also available to order in the USA from www.thinkgeek.com
Energetic, flirtatious and by his own admission, "a mad man", the Eleventh Doctor's youthful looks masked an old and wise soul.
Following the tragic loss of his companions Amy and Rory Williams, the Doctor seems lost to despair, having both regenerated the TARDIS and his wardrobe, the last of the Time Lords spends his days in solitude. It is only with the arrival of "The Impossible Girl" that the Doctor returns ready to take on the universe and all it's wonders.
BIG Chief Studios are proud to announce an all-new 1:6 Scale Collector Figure in celebration of the Eleventh Doctor.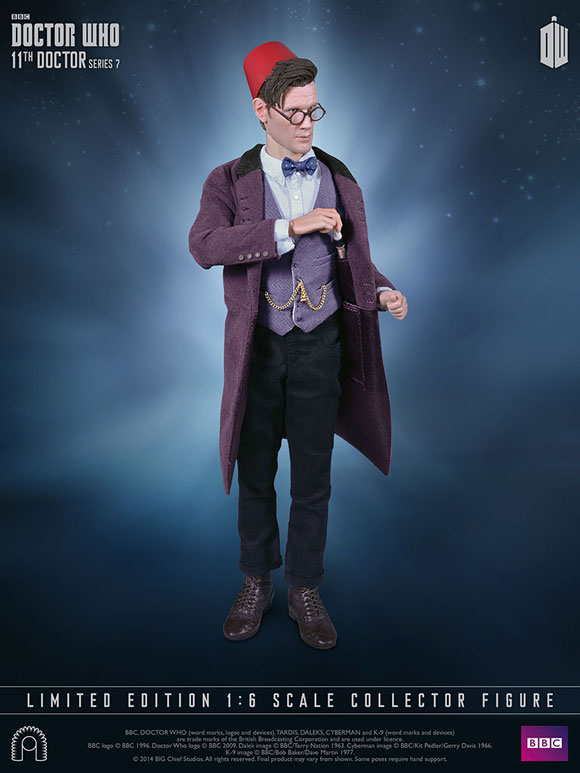 Officially licensed by BBC Worldwide and produced in a limited worldwide edition, each figure features a fully realised likeness of Matt Smith as the enigmatic Time Lord in his series 7 costume and comes packed with numerous accessories including: removable and interchangeable fez; round-framed spectacles; bow tie box; Magnograb Remote (Big Friendly Button), plus a light-up display base.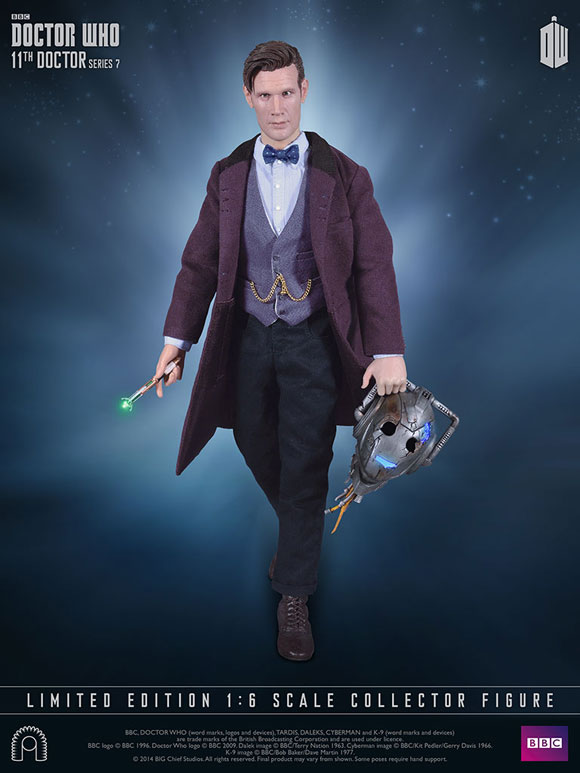 As an added bonus if you purchase the Eleventh Doctor Series 7 1:6 Scale Collector Figure from BIG Chief Studios, you will receive a FREE interchangeable portrait of the Twelfth Doctor, featuring a fully realised likeness of Peter Capaldi.
Collectors can choose to display their figure as either Doctor from the climatic regeneration sequence.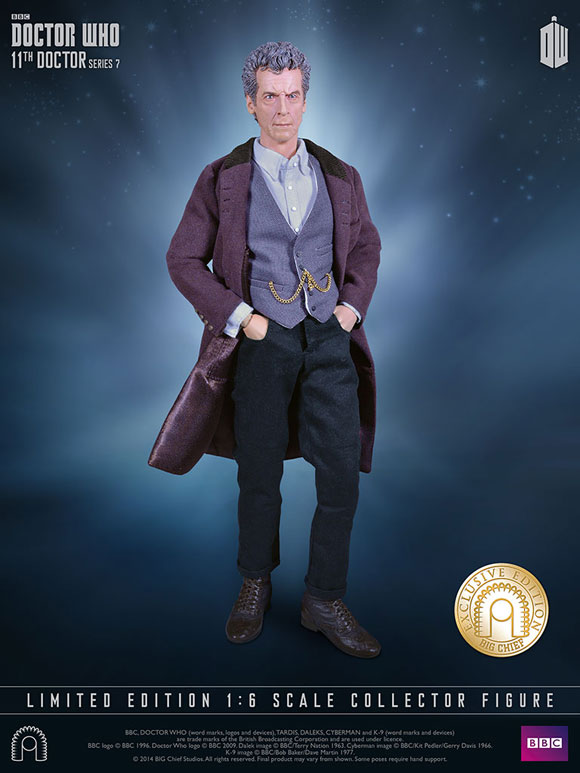 If you choose to pay for your pre-order via one of our Payment Plans, or by paying in full, you will also receive a FREE Handles Cyberman head accessory, with light-up feature whilst stocks last.
Specification
1 x 11th Doctor Portrait Head featuring an Authentic Likeness of Matt Smith with Removable Hairpiece and Neck
1 x Fez with Interchangeable Hairpiece
1 x Anatomix Standard Slim Male Body with over 30 Points of Articulation
1 x Frock Styled Jacket
1 x Waistcoat with Pocket Chain
1 x Shirt
1 x Bow Tie
1 x Pair of Bracers (Suspenders)
1 x Pair of Trousers
1 x Pair of Boots
1 x Pair of Socks (Partial)
8 x Interchangeable Hands (6 x 11th Doctor & 2 x 12th Doctor)
1 x Display Base with Illuminating Gallifreyan Symbol & Stand
EXCLUSIVE: 1 x 12th Doctor Portrait Head featuring an Authentic Likeness of Peter Capaldi with Neck

Accessories
1 x Sonic Screwdriver (Closed)
1 x Sonic Screwdriver (Open)
1 x Wallet with Psychic Paper
1 x Pair of Round Framed Spectacles
1 x Big Friendly Button
1 x Bow Tie Box with Bow Tie
1 x Wristwatch
1 x TARDIS Series 7 Interior Printed Backdrop
EXCLUSIVE: 1 x Handles Cyberman Head FREE with Purchase via Payment in Full or Payment Plan