Reeltime Pictures Who on Earth is Toe Baker / Beyond Belief
Available to order from www.timetraveltv.com or www.galaxy4.co.uk
Tom Bakers Beyond Belief available to order from www.timetraveltv.com
Tom Baker's portrayal of Doctor Who proved to be the most successful in the BBCtv series history.
Away from the cameras, Tom can be both reclusive and elusive and finding out about the man behind the myth can prove extremely difficult. Until now!
In this unique production, ten years after he left the show, Tom agreed to give us his view of tom Baker.
Shot on location in and around his home and filled with Tom's views on Doctor Who, life and (more importantly) death, it could be called an autobiography –
but it's a whole lot more than that!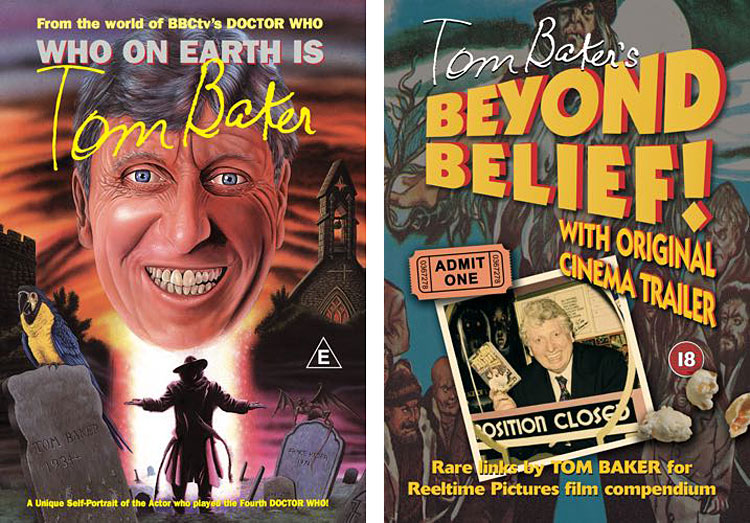 ---
Tom Bakers Beyond Belief
In 1997, Reeltime Pictures launched a new series of VHS home entertainment videos with the title Beyond Belief!
The concept was to make available rare cult films which were … shall we say … a little macabre or weird – and package them with a new introduction.
Former DOCTOR WHO, TOM BAKER was enlisted to host the series and explain the background to each film in a "top and tail" piece to camera.
A studio set reminiscent of a 1950's cinema booth was created and, after recording Tom's presentations, the film compendium series was launched with three titles, The Mutations, The Immortalizer and Berserk.
The series was a success, with great reviews, but it proved impossible to source further titles and the idea was reluctantly shelved.
The films rights have now reverted to the owners, but here, together with the trailers and outtakes from the studio recording, are TOM's introductions, together with an explanation by series producer Keith Barnfather.
This is an oddity, but displays TOM's ability to communicate and entertain to great effect…