Doctor Who – TARDIS Flip-Top Pedal Bin
Underground Toys Doctor Who – TARDIS Flip-Top Pedal Bin
Available this summer.Can be pre ordered from www.forbiddenplanet.co.uk price £39.99.
This Office-sized Trash Can, a detailed model of the 11th Doctor's TARDIS offers the retro futuristic vibe your office sorely needs!
Just step on the pedal to open the roof and activate the police box light detail and Tardis Materialise sound effect, and when your rubbish is safely deposited into the easy clean removable interior, release the pedal to activate the Tardis Dematerialise sound effect.
• The approximate height is 42cms, but remember, it's bigger on the inside.
• Office-sized Trash Can is a detailed model of the 11th Doctor's TARDIS.
• Step on pedal and the roof opens.
• Removable interior can with handle to make trash easily removable.
• Sound & Light activated when the pedal is pressed. Sound is as Tardis Materialise when opened and Tardis Dematerialize when closed. The light is pale blue and flashes with the crescendos of the sound effect.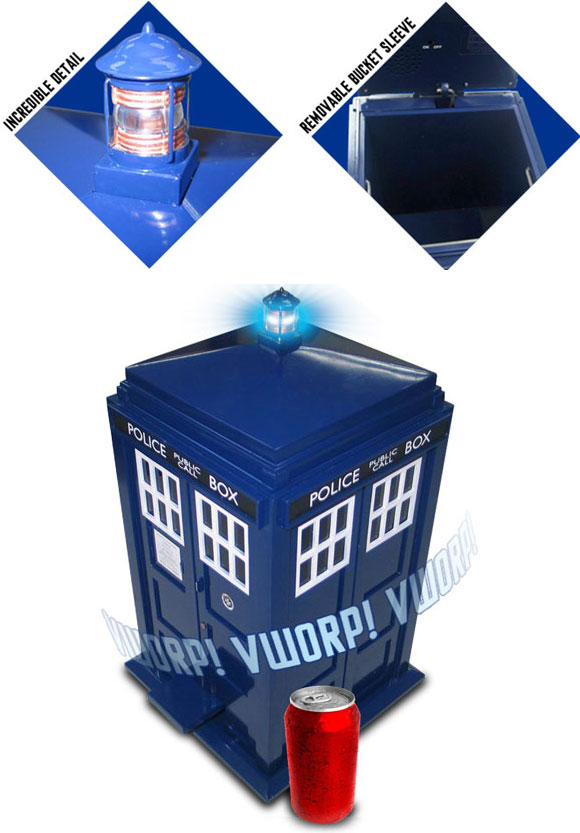 A second video of Underground toys talking about Doctor Who and trash cans (please bear in mind she is talking about the USA market as far as products are concerned)