The Essential Book of K9
Available to order in the UK from www.amazon.co.uk
Also available to order in the UK/USA from www.k9official.com
Includes: The complete story of K9 from Doctor Who and beyond with Special Features, Exclusive Photos and new Fiction from Bob Baker!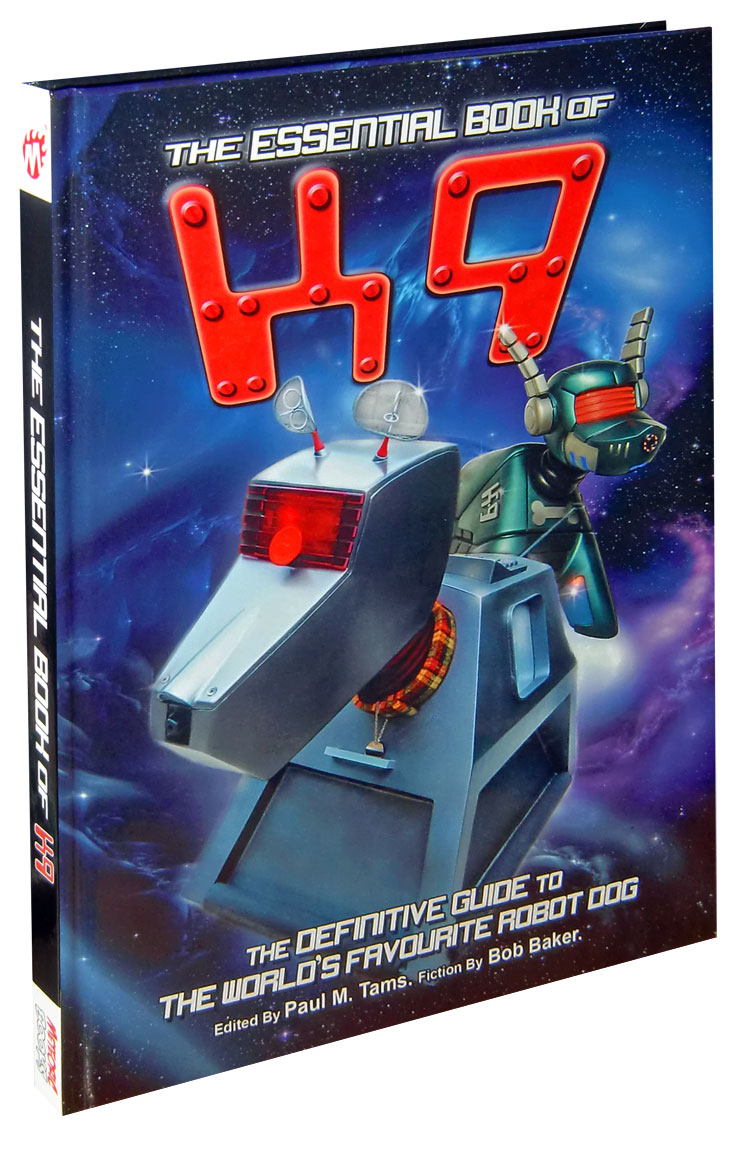 K9 was the brainchild of two prolific TV screenwriters; Bob Baker and Dave Martin.
They had written numerous series for TV and had since the early days of Jon Pertwee's tenure as 'The Doctor", become regular contributors to the BBC TV programme "Doctor Who".
A Timeless Companion
Designing an Icon-. Tony Harding
Walking The Dog
His Masters Robot Voice: John Leeson
The Second Voice: David Brierley
K9 Classic Cutaway
Those TV Times
One Man and His Dog
Fiction: Peaceniks
Pedigree Dogs
Collectable Memoirs
The Dream Time: K9's Lost Farewell
Top Dog on Show
Bob and Dave had gained quite n reputation for writing epic story lines that the BBC and in particular the show's producers had battled to cope with getting onto the screen in such a way that would both do justice to the imagination of the writing team and enthral the audience.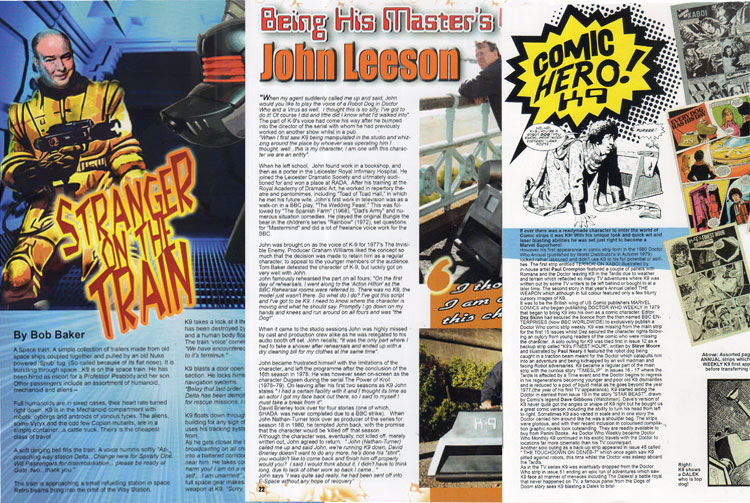 With a very limited budget in the 1970's it was left to the Visual Effects department and allotted production designers to try and interpret their wondrous wild creations such as Axons, Gel Guards, Omega and Mutants.
Fiction: Interstitials
K9 TV Series Episode Guide
K9 TV Show Credits
K9 TV Series Cutaway
Creating a new look for K9
Behind the Screen
Cast of Characters
Fiction: Stranger On A Train
Alien Threat detected!
TOP SECRET: Future Adventures
K9 Future Cutaway
Comic Hero!
The Doctor Who legacy of
The definitive guide to the world's favourite robot dog. Large format hardcover with lots of factual information about K9's history and development to date plus a comic strip and original fiction written by Bob.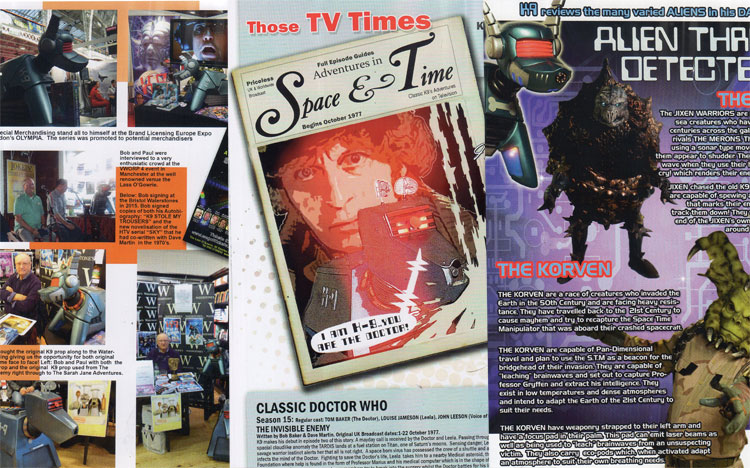 Edited by Paul M. Tams. Fiction by Bob Baker.
Text by Paul M.Tams, Justin Thomas, Trent Turner, Gareth Kavanagh.
Illustrations by Lee Adams, Adrian Salmon, Paul Burley, Trent Turner and Paul M. Tams.
Bob Baker & Dave Martin
2017-Life Begins at 40.
Bob Baker-A Writers Tale
Picture Story: Short Circuit
K9 – Kloned! / About The Cover
Acknowledgements/Special Thanks.
Photographs: Stuart Sadd, Steve Cambden, Nigel Brackley, Paul M. Tams, Hamish Cairns,
Peter Kent, Stephen Brown, Dave Greenham, Louise Edge, Dan Wray, Gavin French.
Published by Meteoric Books, A division of Meteoric Entertainment Limited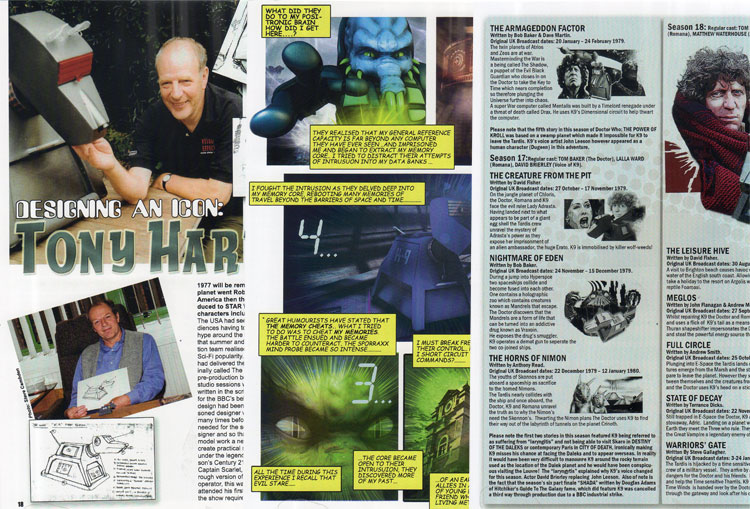 K9 image © BBC/Bob Baker/Dave Martin 1977. Used courtesy of BBC Worldwide Limited.
K9 TV Series image @ Bob Baker/Paul Tarns. K9 Future Design © Meteoric Entertainment Limited.