Special Feature – Cybermen Figures
Special Feature – Cybermen Figures
With the addition of our extensive Cybermen section to the main site we thought we would take a look at some of the Cybermen merchandise, in particular figures that have been made available over the years.
How it all began – well not quite. The first Cyberman figure was manufactured by Dennis Fisher (Mego) and is now extremely rare. We have yet to find one to add to our collection but you can see it Here at Mego Museum.
The first TV appearance of the Cybermen was in the 10th Planet with Characters superb figure shown below.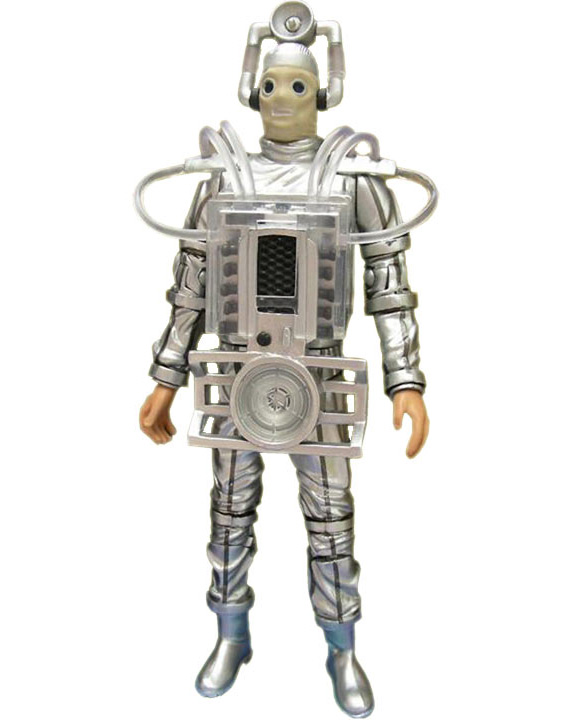 Product Enterprise produced various talking Cybermen including an all over matt silver finish, a Chrome effect Cyberman and Cyberleader and a Stealth Cyberman.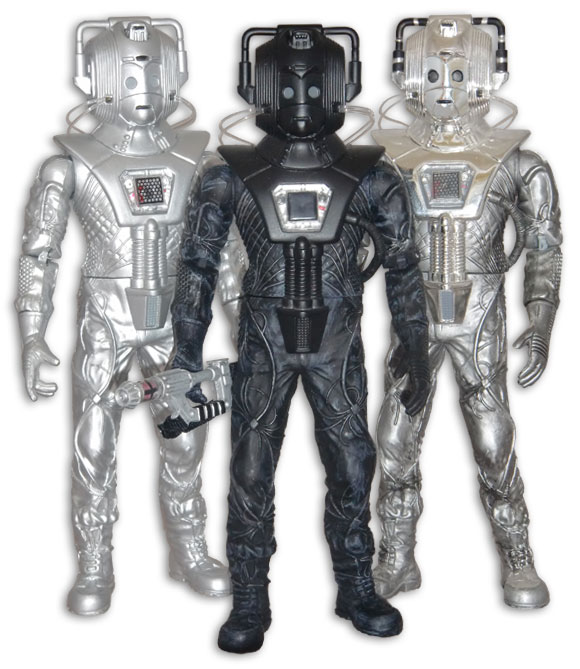 The two Dapol Cybermen. Although not as accurate as today's figures many people still collect Dapol. Some of their later figures had no articulation like the Cyberman shown below (right). None the less this was probably one of the best Figures they produced.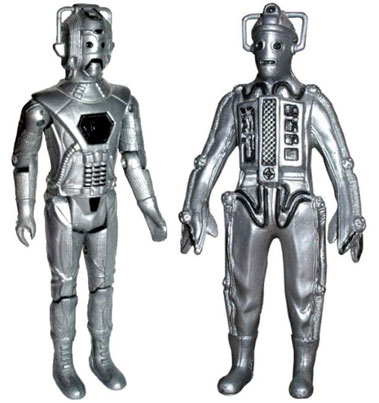 Sixteen 12 produce two 12″ statues, the Cyberman and Cyberleader from Revenge of The Cybermen. Each statue is cast in high quality polystone material and were sculpted by renowned artists Sarah Aplin and Andrew Teal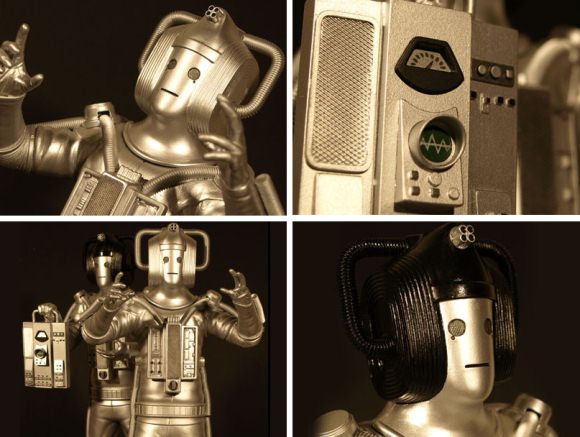 Characters first venture into classic Cybermen was the Build A Figure Age of Steel Set which included Tomb, Invasion and 10th Planet versions with parts to build the Cybercontroller from Tomb of the Cybermen. The Earthshock Cybermen was included with Characters classic wave 2 but since then all classic figures have been commissioned by Underground Toys.
All the Classic Cybermen so far… Click the Image for a spectacular large version.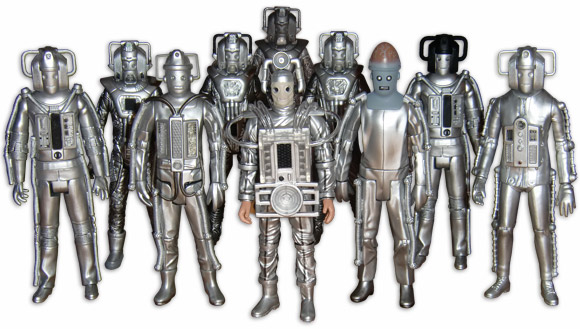 The Tescos 3 figure set was amazingly sold off in some stores for just a few pounds and is now quite sort after.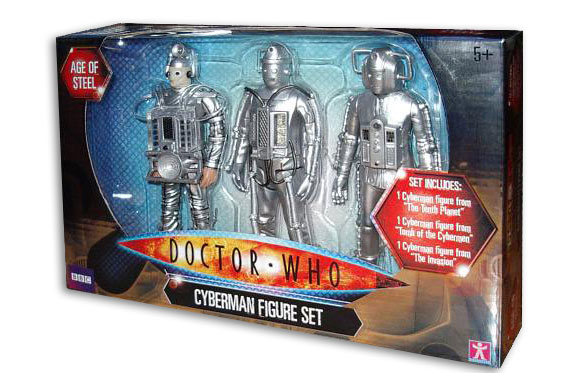 Underground Toys. Many variation of Cybermen are now available thanks to the commitment the classic series by Underground Toys. Shown below are just 2 sets, The Silver Nemesis set and 6th Doctor with Stealth Cyberman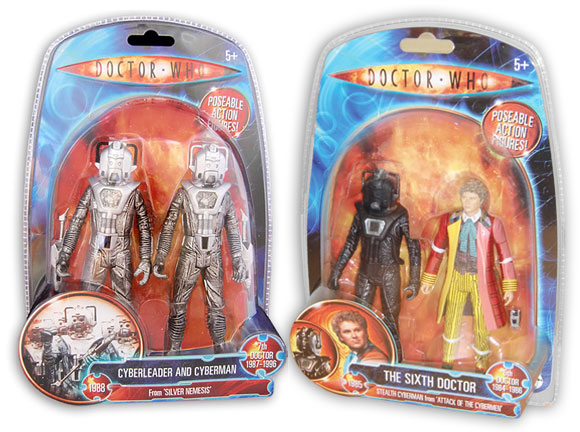 The Cybus Cybermen. A whole host of Cybermen from the new series have been manufactured by Character with several Cyberleaders, Underhenge and Standard Cybermen shown below. Click the image for a full version.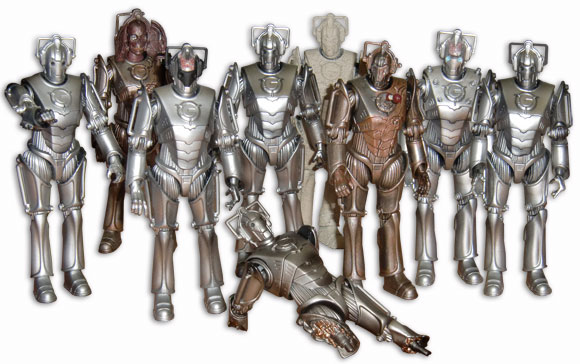 Many other variations and novelties have been made. Shown below are the Character 12″ Cyberman and Controller, Bubble bath, room guard and voice changer helmet.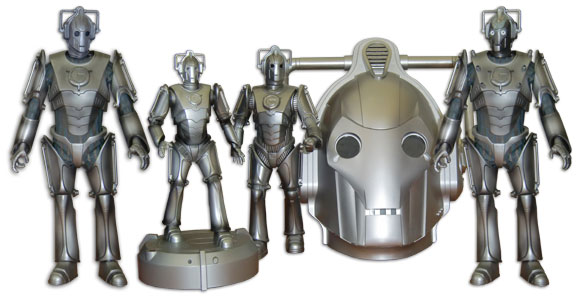 Scificollector produced a superb 5″ figure with stand which is shown below (centre) along with the Cards Inc bust, Corgi, Micro universe, Time squad, keyring and Money box versions.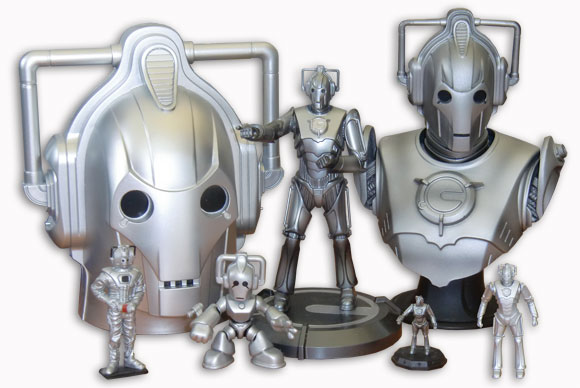 The two that got away? (three if you count the Cybershades). The Wheel in space and Cybercontroller from Attack of the Cybermen – will we see them one day? (in case you hadn't realised the images below are a mock of existing figures and screenshots )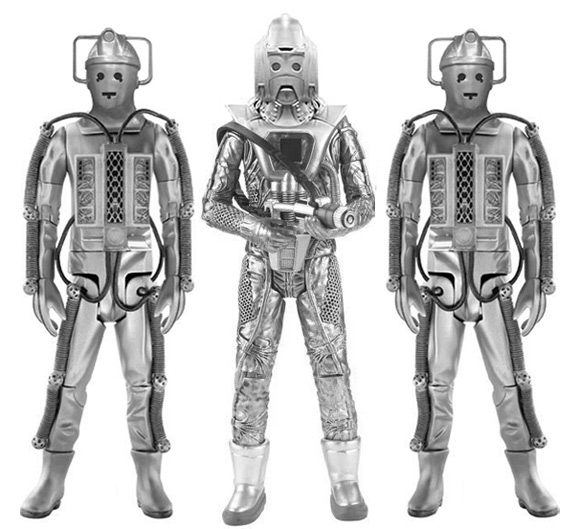 And finally – Still to come, the superb Titan Maxi Bust and Character Building figure – but we have a feeling it wont stop there…