Nothing at The End of The Lane Issue 4
Available to order from www.endofthelane.co.uk
An Unearthly Studio
As well as providing the first biographical article on the series original
production designer, Peter Brachacki, Philip Newman looks at back at the
original designs and studio layouts for An Unearthly Child and the decision
making process that went into putting the very first episode into the studio.
Are We The Daleks?
Published for the first time, we present a number of original and unused
concept sketches for the Daleks drawn by Ray Cusick's assistant designer,
Jeremy Davies whilst working on Serial B in 1963, along with his production
drawings showing how the creatures gradually developed their final form.
Trouble in Store
Unseen for many years, we reproduce the original storyline to Malcolm Hulke
and David Ellis' 1967 four-part story, The Big Store, whilst Andrew Pixley
looks at how this tale of bubonic plague and department stores morphed into
The Faceless Ones.
Going on the Record
Between 1965 and 1979, several attempts were made to convert Doctor Who
into a commercially available audio format. These ranged from adaptions of
existing television soundtracks to the creation of some brand new adventures.
Whilst some made it to the record shelves, others faded into obscurity…
Are You My Mummy?
Creature supervisor Dave Bonneywell takes us through his illustrated record
explaining the creation of The Foretold from Mummy on the Orient Express.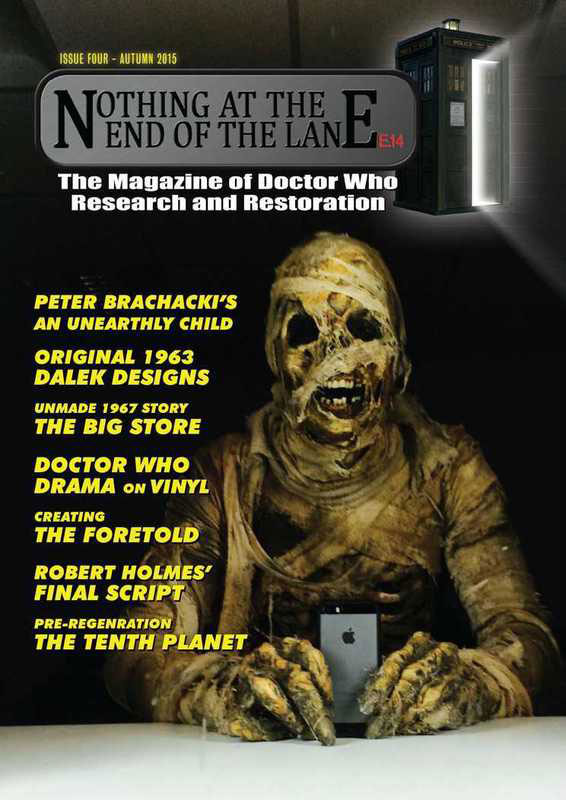 Bob's Fantasy Factory
Richard Molesworth looks at Robert Holmes' original script for Episode
13 of The Trial of a Time Lord, revealing a rather different illusionary
world inside the Matrix.
Regeneration? What Regeneration?
Recently discovered in Kit Pedler's personal archive, we take a look at
the original script for the final episode of The Tenth Planet, written
before the concept of regeneration was introduced into the series.
The Repositary of Incredible Things
We look at some of the surviving props, models and
storyboards from the series that have made their way into
various private collections.

My Dad…Mervyn Pinfield
We talk to Mike Pinfield, the son of the programme's first
associate producer, about his father's life and career.

Plus…
• Barry Lett's secretary, Sarah Newman, reveals her memories of
working in the production office during the 1970s and how Spike Milligan
came to submit his own script entitled Captain Scarlet's Left Sock…
• We look at a little-known First Doctor unmade adventure featuring a
new enemy, the Daggits.
• Just what remains of the original unused recording of The Dead
Planet?
• Just how did the missing TARDIS arrival scene in Terror of the Zygons
come to be found? We explain.
• Behind the scenes photographs from Fury from the Deep and The
Claws of Axos.
• And lots of other interesting stuff!