Doctor Who Series 7 Part 1 Weeping Angels Limited Edition
This item is available to order from BBC Shops.
The Doctor, Amy and Rory are back for the first five blockbuster episodes of series seven. The trio encounter the Daleks, Weeping Angels and even Dinosaurs on a Spaceship as the series builds to the departure of The Ponds in one of the most heartbreaking episodes in the history of Doctor Who.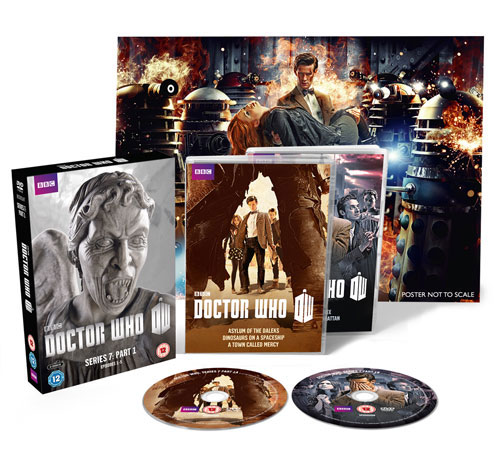 Special Features:
• The Science of Doctor Who
• Doctor Who at Comic Con
• Featurettes:
• Pond Life
• Asylum of the Daleks Prequel
• The Making of "Gunslinger"
Filed under: Box Sets, DVD, New Series dvd's
Comment rules
The Doctor Who site welcomes constuctive comments related to the news article in question. Links posted in comments may not be displayed. We reserve the right to delete or edit any post entirely at our discretion. If you leave unacceptable comments your IP address will be banned and reported