Doctor Who Adventures issue 308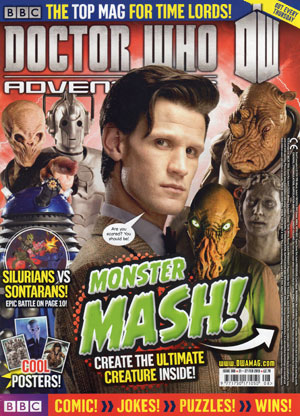 Doctor Who Adventures issue 308
Doctor Who Adventures is a weekly magazine for people who love Doctor Who.
The magazine immerses readers into the world of the Doctor and his friends, taking them on an adventure into time and space every week!
It is packed full of monster and creature fact files, brilliant posters, behind-the-scenes secrets, competitions, comic strip action and puzzles.
There's always loads of excitement, action, adventure and fun! Doctor Who Adventures is a must-have for young fans of the successful BBC series!
This weeks edition comes with a surprise gift.
Inside this issue…
Who news
Monster mix-up!
Doctor's diary
Make an Oodie!
Slitheen mask
Comic adventure!
Doctor! Doctor!
Monster in love and much more
Next weeks edition comes with a giant stick roll and pen.
.