Doctor Who Adventures issue 304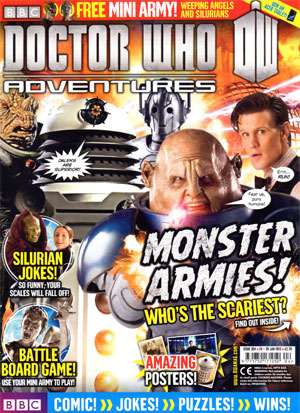 Doctor Who Adventures issue 304
Welcome, welcome. Hope you're well!
I'm just back from taking the TARDIS for a quick spin around 2013 – and all I'm going to say is… what a year and hold on tight!
April and May are incredibly exciting months and just you wait until November.
I'm not going to say too much more, but there's quite a bit to look forward to! And of course, there's this top magazine every week, too.
See you again very soon!

Also inside…
Secret info!
Doctor, Doctor!
Moon facts!
Comic action!
Board game!
Cool competitions!
Monster armies!
Latest news!

This weeks edition comes with a monster army, next weeks is a surprise gift and monster invasion cards.
Doctor Who Adventures is a weekly magazine for people who love Doctor Who.
The magazine immerses readers into the world of the Doctor and his friends, taking them on an adventure into time and space every week!
It is packed full of monster and creature fact files, brilliant posters, behind-the-scenes secrets, competitions, comic strip action and puzzles.
There's always loads of excitement, action, adventure and fun! Doctor Who Adventures is a must-have for young fans of the successful BBC series!
If you are interested in subscribing, or to see various offers on the Magazine go to the BBC Doctor Who Adventures page Here. You will never miss an issue and its delivered straight to you.
Doctor Who Adventures brand-new app!
Lunches on 28th December 2012
To celebrate the 300th issue, Doctor Who Adventures are launching a brand-new app! The mega monster mag will now be available for Doctor Who Adventurers around the world. Visit the the App store by clicking Here and enjoy the alien fun on your iPad and iPhone!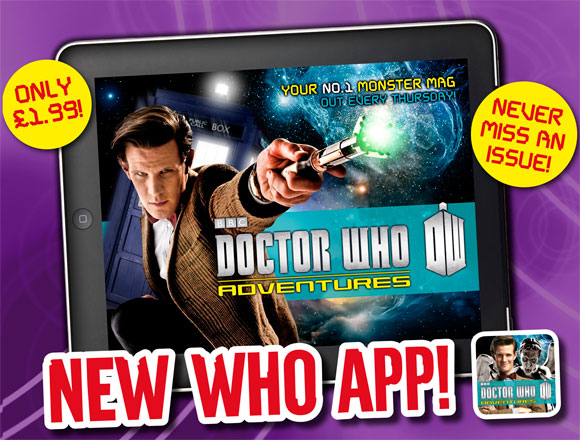 With thanks to immediate media