Doctor Who Adventures issue 301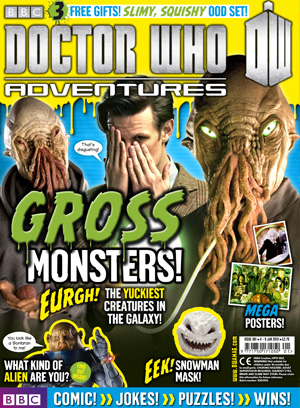 Doctor Who Adventures issue 301
Gooooooo! Doctor Who Adventures is grosser than ever!
This week's issue of Doctor Who Adventures is one of grossest and slimiest ever, as we take a look at the yuckiest aliens that the Doctor has ever met!
It's also packed with puzzles, monster info, more comic adventures, a scary snowman mask and facts about the Great Intelligence!
Doctor Who Adventures issue 301 is in the shops from 3 January.
Doctor Who Adventures is a weekly magazine for people who love Doctor Who.
The magazine immerses readers into the world of the Doctor and his friends, taking them on an adventure into time and space every week!
It is packed full of monster and creature fact files, brilliant posters, behind-the-scenes secrets, competitions, comic strip action and puzzles.
There's always loads of excitement, action, adventure and fun! Doctor Who Adventures is a must-have for young fans of the successful BBC series!
If you are interested in subscribing, or to see various offers on the Magazine go to the BBC Doctor Who Adventures page Here. You will never miss an issue and its delivered straight to you.
Doctor Who Adventures brand-new app!
Lunches on 28th December 2012
To celebrate the 300th issue, Doctor Who Adventures are launching a brand-new app! The mega monster mag will now be available for Doctor Who Adventurers around the world. Visit the the App store by clicking Here and enjoy the alien fun on your iPad and iPhone!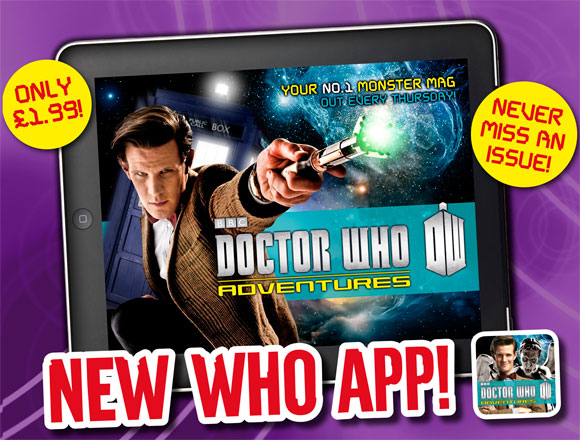 With thanks to immediate media