Who's There? The Life & Career of William Hartnell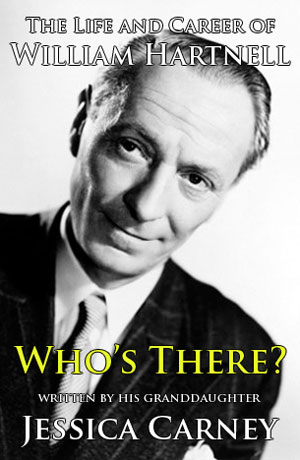 Who's There? The Life & Career of William Hartnell
William Hartnell took the leading role in Doctor Who towards the end of a long acting career that was a successful as it was varied.
He played musical light comedy; he played a succession of mean crooks and bullying sergeant-majors; he played a time-travelling eccentric.
He appeared in more than 75 feature films, in countless stage performances and in several television programmes in addition to Doctor Who.
Jessica Carney's closely researched biography of her grandfather includes stories from many of the hundreds of stars of stage and screen with whom he worked, among them Richard Attenborough, Verity Lambert, Bob Monkhouse, Carole Ann Ford, David Langton and Lindsay Anderson. Updated and available for the first time in over fifteen years, Jessica Carney's biography is published to coincide with the 50th anniversary of the character that made him immortal – Doctor Who!
The hardback edition of 'Who's There' will be released in September 2013