Who Goes There e-Book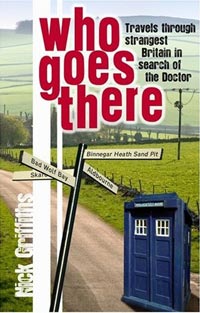 Nick Griffiths travels England Wales seeking the ghosts of Doctor Who, as he tracks down the show's classic and new locations. Quarries and sandpits, impossibly quaint English villages, a cemetery in Wales, a railway bridge off the A312… Way off the tourist maps, yet such evocative sights, teeming with stories of piracy and power stations, church bells and Charles Dickens.
As his quest continues – wading off queue-jumping old biddies, tiptoeing gingerly outside the law, misplacing entire quarries and blagging his way into Mick Jagger's old pad – Nick offers childhood memories and contemporary musings, and finds himself spellbound by these lesser-trodden green corners of Great Britain.
The e-book for Who Goes There features an exclusive author video with Nick Griffiths, theme tune and links to author research websites.
You can visit the Legend Press website Here where you will find details of how to order plus there are details of the hardback copy Here which also includes a link to a companion website for the Book.