Vworp Vworp! Magazine Volume 1
The highly successful issue one and two sold out some time ago.
You can follow all the latest information on future issues on their Vworp Vworp website, www.vworpvworp.co.uk or on their facebook page Here.
Vworp Vworp! is essentially a loving, affectionate look at Marvel/Panini's Doctor Who comic strips and the magazine that spawned them – Doctor Who Magazine. Co-edited by Gareth Kavanagh and Colin Brockhurst, and designed by the latter, Vworp Vworp! is a non- profit-making, full-colour glossy 80-page perfect-bound fanzine that in the words of Paul Scoones (author of the forthcoming Doctor Who Comics Companion) 'sets a high benchmark for fanzine production standards'.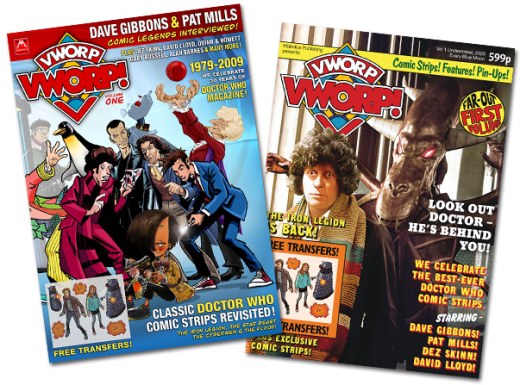 With only 1000 copies being printed, 900 copies will have a wonderful wrap-round artist mash-up cover whilst a single variant cover will be featured on 100 copies (not 100 different ones – that would be a logistical nightmare!) and is intended as a loving homage to the original Doctor Who Weekly covers.
Both covers also feature a set of transfers (yes, real rub-down transfers just like those we cherished on Issue 1 of Doctor Who Weekly thirty years ago) specially drawn by Paul Grist (with colours by the sublime James Offredi), complete with a matching scene of the Daleks on Skaro to apply them to!
Contents include:
Dez Skinn interview
Vworp Vworp! discusses the birth of Doctor Who Weekly with its original creator, founding editor and comic industry legend Dez Skinn.
Countdown to Kentish Town
Jeremy Bentham offers his perspective on the Weekly's early days from conception, to publication and beyond.
Who Cares!
A wide range of writers celebrate the thirtieth anniversary of the launch of Doctor Who Weekly, in the form of imaginary love letters to DWM (complete with pics of many of us as little 'uns as a homage to the wonderful letters page of the Weekly).
Time Leech
Something green and slimy's interfering with reality… Comic strip written by Kasterborous' own Christian Cawley, art by Justin Abbot.
Collectors' Corner
David J Howe blows the dust off a DWM regular feature for one final outing.
Veni Vidi Vici
Dave Gibbons and Pat Mills on DWW's first classic, The Iron Legion, with contributions from Dez Skinn, David Lloyd and Leon Hewitt, including the never-before-seen original pitch document, fully annotated and dissected.
Nailing The Star Beast
Dave Gibbons, Pat Mills, Steve Lyons and Gareth Kavanagh on the trail of our own favourite furry supervillain, Beep the Meep!
A Child Called "Peggy"
Nicholas Pegg relives a painful childhood experience.
The Cybermen
Exploring possibly the most esoteric of the Who strips, the Cybermen strips from the mid-90s. Features interviews with writer Alan Barnes, artist Adrian Salmon and editor Gary Russell, plus an appreciation from Matt Badham and a lost instalment completed for the first time.
Clash of Empires
Silurians vs Ice Warriors! Comic strip action, inspired by The Cybermen, written and drawn by Daryl Joyce.
The Master's Life on Mars
Just what has the Master been up to in that ring of his all these months? It's the freakiest show… Comic strip written by Gareth Kavanagh and John Daiker,
art by John Daiker.
Thirty Years of Happiness
Legendary Doctor Who Magazine archivist Andrew Pixley on the important place DWM holds in his life.
The Flood Design Scrapbook
What goes into a successful reboot of a Who icon? Scott Gray, Martin Geraghty, Adrian Salmon and Clayton Hickman on reimagining the Cybermen for DWM's strip, with exclusive script-to-page comparisons.
Time Toons
Explores Doctor Who Magazine's rich comic heritage, with exclusive interviews with nine of DWM's cartoon creators: Tim Quinn & Dicky Howett, Nick Miller, Ben Willsher, Roger Langridge, Kev F Sutherland & Steve Noble, Leighton Noyes and Baxter Sullivan.