Exploding Tardis / Victory Daleks / Vortex Posters
Blue Box Exploding, Crack in Time, Victory Daleks, Vortex and Eleventh Doctor Posters
Exploding TARDIS Poster
The Pandorica Opens, also known as Blue Box Exploding, was one of the final paintings by Vincent van Gogh, painted in 1890 and inspired by transmissions he picked up from 102 AD Stonehenge.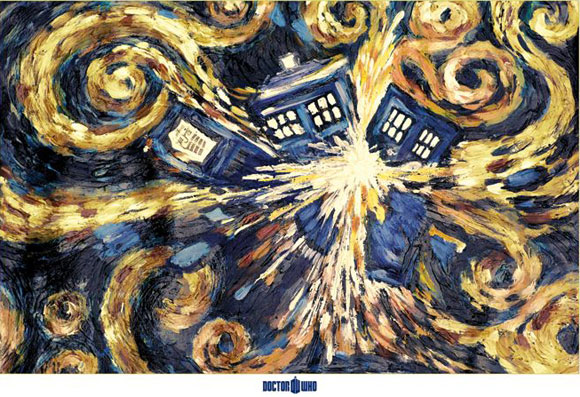 Crack In Time poster
Oh dear – have you got a scary crack on your bedroom wall? Who knows what that could lead to?
Straight from the new series of Doctor Who a crack in the fabric of the universe all ready to hang about your home!
Poster measures 11.75″ x 36″. Available from www.forbiddenplanet.com

"WOULD-YOU-LIKE-A-CUP-OF-TEA?"
Good show chaps! We'll soon have the Nazi menace on the run with Professor Bracewell's Ironsides!
This very cool poster comes straight from the Matt Smith episode of Doctor Who – 'Victory of the Daleks'. Featuring the brilliant WWII propaganda artwork for Churchhill's new robotic innovation, the 'Ironsides', it measures a great big 24″ x 36″.
A Ministry of Defence and Forbidden Planet exclusive item!
To victory!

This poster is exclusive to Forbidden Planet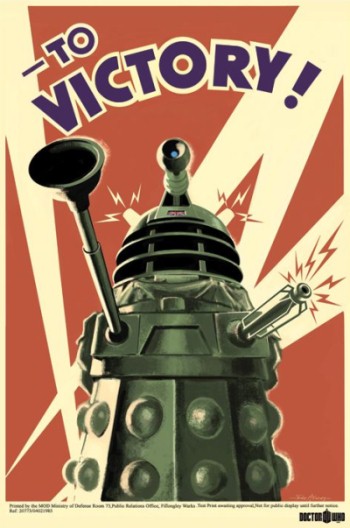 Other series 5 posters…