TV & Satellite Magazine Doctor Who Cover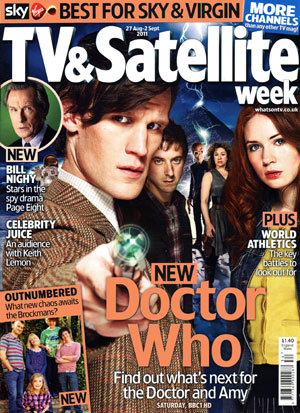 TV & Satellite Magazine Doctor Who Cover
Swastika-emblazoned banners line the walls of a large, imposing office, while soldiers in Nazi uniform mill about outside.
In the middle of the room, a table has been smashed in two, papers are strewn across the floor and, in the corner, stands a familiar-looking blue police box…
We are on set in Cardiff-standing in for pre-war Germany -for the resumption of series six of Doctor Who, which makes its eagerly-awaited return on Saturday.
Matt Smith's Doctor dropped in unannounced on Winston Churchill in last year's episode Victory of the Daleks, which saw the Tardis materialise in the Cabinet War Rooms during the Blitz, and now he and his trusty companions Amy (Karen Gillan) and Rory (Arthur Darvill) are travelling back in time to the Nazi era once more, this time coming face to face with none other than Herr Hitler himself.
You can read the full article in this weeks TV & Satellite Magazine