Torchwood Magazine 18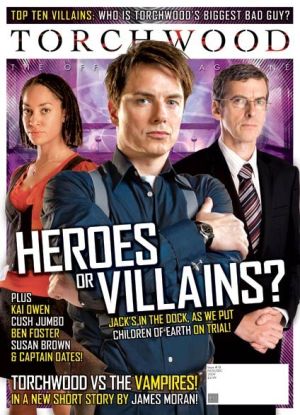 Torchwood Magazine 18
Gareth gets the girl!
Gareth David-Lloyd is going online for his latest project, Girl Number 9, created exclusively for the internet by Torchwood writer James Moran (Sleeper, Children of Earth Day Three). The dark thriller plays out over six five-minute instalments, and sees David-Lloyd take on the role of Matheson, a detective leading the investigation into a series of brutal murders. Girl Number 9 premieres online on 30 October at 9pm. For more information, visit the website.
The full story appears in the latest issue's comprehensive news section, The Hub. Torchwood magazine issue 18 is on sale now – check out this page for the full lowdown on what's inside.
Out of Time
Our unique and comprehensive coverage of classic Torchwood continues in the latest issue, as Out of Time gets the Episode Guide treatment. The arrival of three ordinary people from the 1950s threw the Torchwood team into more chaos than a herd of Weevils in the season one episode – the stranded individuals' attempts to adjust to life in the 21st Century affected Jack, Gwen and Owen in ways they never could have predicted…
Jack's in the dock!
Our coverage of the trailblazing Children of Earth continues in the latest issue of Torchwood magazine, as we put the key players on trial. We all asked ourselves what we would do in a similar situation to Jack, John Frobisher or the elected MPs? Who made the right decisions? Indeed, is there such a thing as a 'right' decision in such a complex situation? You can join the debate on our Facebook page, or email us your views at torchwood@titanemail.com.
Plus, don't miss the second part of archivist Andrew Pixley's exhaustive dissection of Children of Earth. It's the ultimate survey of 77 long days on the Torchwood set.

Rhys on Earth – Kai Owen
"Rhys just wants to make sure Gwen's safe, and then go home for a cup of tea!" – Kai Owen
As Gwen's loving husband Rhys, Kai Owen is the everyman at the heart of Children of Earth. We quiz the actor about his big role in the mini-series in the latest issue of Torchwood magazine, and find out why Rhys is set to run and run…
To find out more about Kai's charity runs and convention appearances, visit his official website.
New Torchwood fiction
Torchwood magazine brings you amazing original fiction and comic strip stories in every issue. This time around, Children of Earth writer James Moran gets high with airborne adventure Stakes on a Plane, and unseasonal snowfall heralds the start of an Antarctic adventure for PC Andy and the Torchwood team in David Llewellyn's I May Be Some Time. Meanwhile, it's part four of comic adventure Broken, written by Nick Abadzis and illustrated by Paul Grist. Can Captain Jack and his team escape in time?
Plus…
Top 10 Villains
Bilis Manger? Captain John? Maybe Suzie Costello? Just who is the baddest of them all?
Susan Brown
The actress talks about her role as John Frobisher's Girl Friday Bridget Spears.
Ben Foster
The man who composes the music for Torchwood tells us how Children of Earth called for something new.
Close Call:Cush Jumbo
We catch up with the lovely Lois Habiba to discuss baking, body suits and the Backstreet Boys…
Concept Corner
The first in a new series of illuminating concept art from Children of Earth.
Beyond the Hub:Possession
Real world reports of possession and alien control from around the globe!
For more information visit The Torchwood Magazine website Here
You can also visit Torchwood magazines Facebook page Here