Torchwood Magazine 16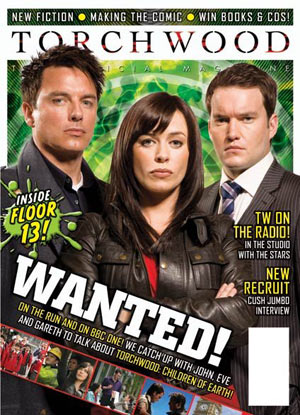 It's back!
Torchwood magazine returns for the last time before Children of Earth finally hits our television screens in July! We whet the appetite for the new series in the latest issue with more sensational coverage – check out this page for all the info!
Exclusive collector's edition!
The latest issue of Torchwood magazine is available as an exclusive collector's edition, featuring a specially commissioned cover illustration by comic artist Michael Golden to celebrate the "Rift War" comic strip storyline.
The magazine is only available to buy through comic book stores.
Plus…
Peter Bennett Column
The Children of Earth producer looks back at the rollercoaster ride from script to screen.
Cush Jumbo
The actress who plays Lois Habiba in Children of Earth tells us all about it!
Torchwood Fiction
The Man Who Dreamed of Stars, a new short story by Torchwood script editor Brian Minchin, and part one of Closing Time, a new adventure by Andy Lane.
Torchwood Comic Strip
The second part of Paul Grist's comic strip story, Broken.
Close Call
Gareth David-Lloyd answers your questions.
Beyond The Hub
Will humans one day live forever? A close look at one of Torchwood's themes, immortality.
For more information visit The Torchwood Magazine website Here
You can also visit Torchwood magazines Facebook page Here