Torchwood Figures Wave 2
Torchwood Figures Wave 2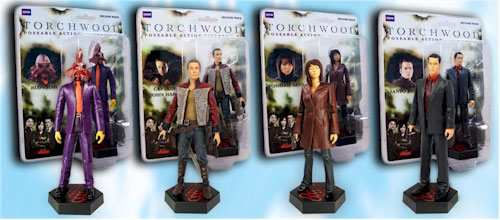 Featuring all new Wave 2 packaging with a strong Children of Earth theme, the figures themselves are superbly crafted and are a credit to all involved in their production. All feature multi-point articulation and detachable 'play or display' plinths adorned with the Torchwood hexagon 'T'.
Available in store now for immediate purchase or you can order these figures from scificollector either individually for £9.99 or as the complete wave of 4 figures for £39.95 Here.
Also available now is the limited edition Ianto and Captain John in special Wave 1 packaging, hand numbered with it's own edition number. Only 1000 of each have been produced. The Ianto figure is good, but the detail on Captain John is something else!
Each figure is fully articulated and comes complete with it's own detachable display plinth. Remove the plinth and its a role play model if you prefer.
Figures in wave 2: Captain John, Blowfish, Ianto & Toshiko.
Images courtesy of of sueworld2003 and scificollector. Please do not reproduce without their consent