Time Lord Fairy Tales Digital Audio Book Downloads
Available to order for download now from www.amazon.co.uk
Also available from itunes
These captivating stories include mysterious myths and legends about heroes and monsters of all kinds, from every corner of the universe. Originally told to young Time Lords at bedtime, these twisted tales are an enchanting read for Doctor Who fans of all ages.
Little Rose Riding Hood
Read by: Rachael Stirlin
Deep in the woods, Rose is travelling to her grandmother's cottage. She's careful to watch out for the Bad Wolf, but what about the strange woodcutter she meets, wearing a black leather jacket? And why does Grandmother suddenly have such sharp teeth?
The Gingerbread Trap
Read by: Samuel Anderson
Lost in a forest, Everlyne and her brother, Malkus, find a house made out of gingerbread and sweets. But the kindly old woman who lives there is not all she first seems – in fact, with her strange metal craft and mysterious barrels of oil, she might not even be human . . .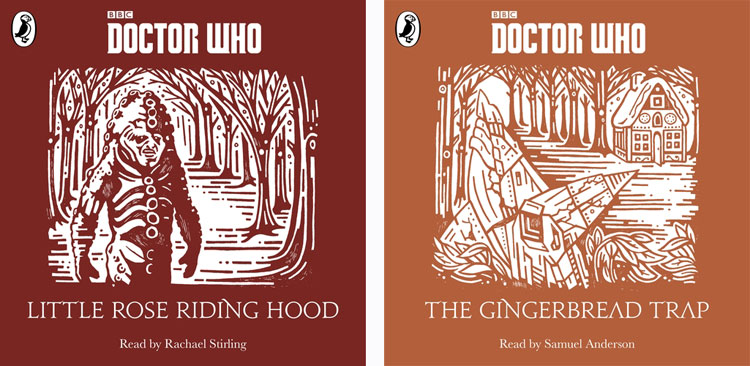 The Scruffy Piper
Read by: Nicholas Briggs
Space Station Hamlyn is under siege. Thousands of small metal creatures are flying through space, sent by silver warriors to burrow inside the station. The crew's only hope is a slightly scruffy-looking stranger, with a recorder and a mysterious blue box . . .
Helana and the Beast
Read by: Pippa Bennett-Warner
Kept captive in a castle by a terrible beast, Helana befriends the castle's only other resident – it's grumpy, grey-haired librarian. Will the Beast and the librarian turn out to be more than meets the eye?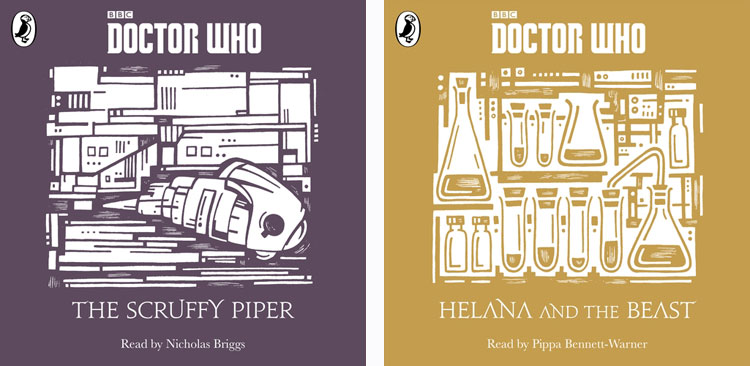 Andiba and the Four Slitheen
Read by: Yasmin Paige
Out walking in the hills one day, a young woman called Andiba hides when she sees several strange creatures beside an odd metal craft. Can she stop their dastardly plans for the local distillery, before it's too late?…
The Grief Collector
Read by: Michelle Gomez
Melina and Varan are childhood sweethearts. Their wedding day should be the happiest of their lives – but when it all begins to go horribly wrong, can they trust a mysterious stranger in a pin-striped suit to set things right?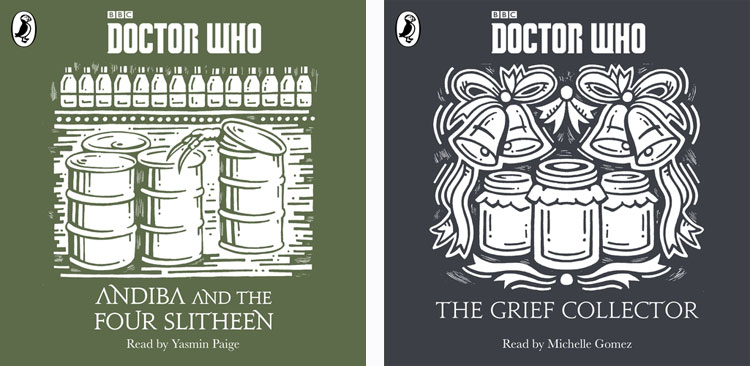 The Three Brothers Gruff
Read by: Paul McGann
Three brothers are walking home to their village. One brother is very strong, one is very brave, and the third – although weak and small compared to his brothers – is very clever. What will happen when they encounter a short (but fierce) member of a military clone race?
Sirgwain and the Green Knight
Read by: Andrew Brooke
The Court of King Halfur is in session, attended by the greatest and bravest knights of the realm, when they have an unexpected visitor. A huge, green warrior clad in reptilian-like armour smashes his way into the chamber – but why does he need their help?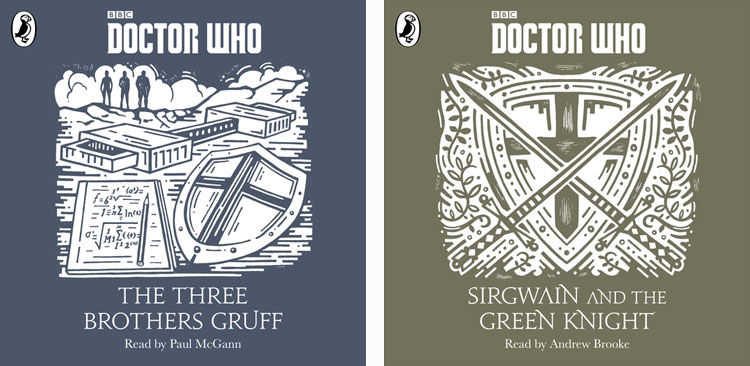 Garden of Statues
Read by: Joanna Page
Children have always played in the garden of the Big House – though sometimes, the stone statues there seem to move about of their own accord.
Frozen Beauty
Read by: Adjoa Andoh
A spaceship crash-lands on a mysterious planet, the crew frozen in cryogenic suspension, unable to save themselves from the slithering dangers that lurk outside. Can a handsome Space Captain find the sleeping travellers before it's too late?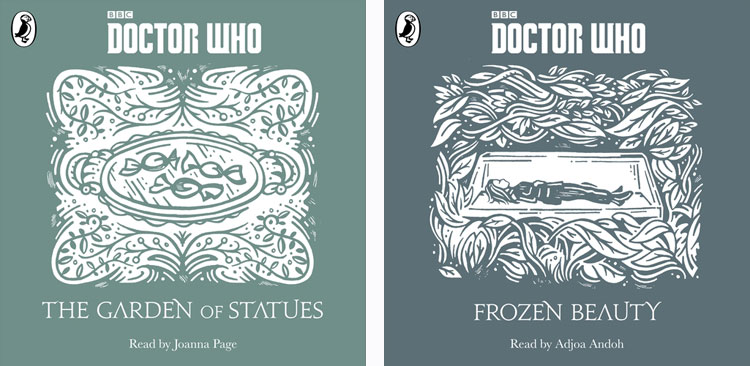 Cinderella and the Magic Box
Read by: Ingrid Oliver
Cinderella has lost all hope of attending the royal ball with her stepmother and sisters, when a strange man in a blue box arrives and begins to grant her every wish. But at the palace, Cinderella soon discovers not all the guests are as noble as they seem . . .
The Twins in the Wood
Read by: Anne Reid
The Emperor of Levithia has been murdered, leaving his two children as heirs to the throne. With treason and traitors around every corner, the children are soon forced to flee into space. What will become of them when they crash-land on a strange planet, full of it's own surprises?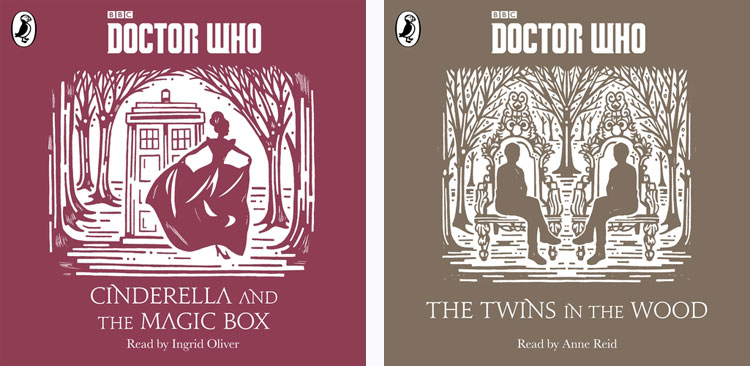 The Three Little Sontarans
Read by: Dan Starkey
In an epic battle against a lone Rutan, three Sontarans take up very different strategies to defeat their interminable nemesis, once and for all.
Jak and the Wormhole
Read by: Tom Baker
After burying a strange device on his farm, Jak finds himself whisked away on an incredible adventure. Faced with a mysterious, horned enemy, it's up to Jak to save the world from total destruction.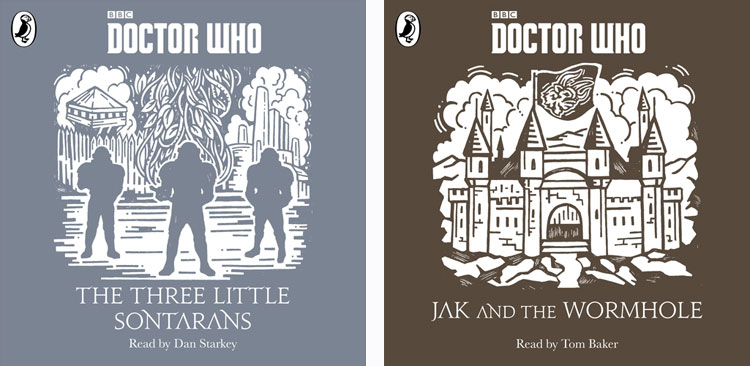 Snow White and the Seven Keys to Doomsday
Read by: Sophie Aldred
The planet Winter was once ruled by an evil tyrant who built a Doomsday Machine. When he was defeated, the machine's seven vital operating keys were hidden across the planet. Now, a villainous queen is plotting to locate the keys, but Snow White is determined to stop her . . .