The Tenth Planet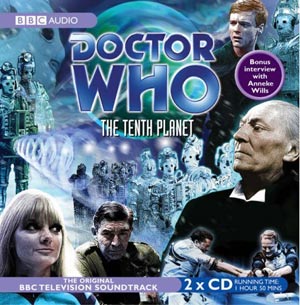 The Tenth Planet
The Cybermen make their first ever appearance whilst William Hartnell's Doctor nears the end of his first incarnation
The year is 1986, and at the South Pole the crew of the Snowcap Base have detected a new planet on their radar. The arrival of the Doctor, Ben and Polly at the Base coincides with another landing – that of a spaceship whose humaoid passengers have used cybernetics to replace their limbs and vital organs.
Battling alongside the humans to save their planet, the Doctor appears to weaken and age before the eyes of his companions. An ultimate collapse appears to signal his death – but then…
In an exclusive bonus interview, Anneke Wills – who also narrates the story's soundtrack – recalls her memories of making The Tenth Planet.
This title was previously released as part of the 'Cybermen' tin.