The Talons of Weng-Chiang Audio CD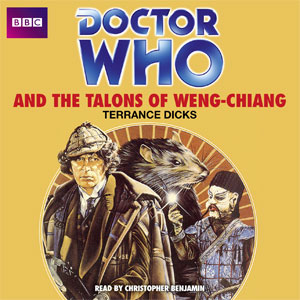 The Talons of Weng-Chiang Audio CD
The Fourth Doctor ventures into Victorian London Sewers in Doctor Who and the Talons of Weng-Chiang a classic Doctor Who audiobook, read by Christopher Benjamin
Diabolical horrors await the Doctor and Leela as the TARDIS lands in Victorian London. Giant rats scamper through the swirling fog as Chinese Tong hatchet men attack and women mysteriously disappear… Then out of the gloomy miasma a man's death cry is heard…
The hideously deformed Magnus Greel, conducting a desperate search for the lost Time Cabinet, is the instigator of all this evil. Posing as the Chinese god, Weng-Chiang, Greel uses the crafty Chang, and the midget manikin Mr Sin, to achieve his terrifying objectives. The Doctor must use all his skill, energy and intelligence to escape the talons of Weng-Chiang.
Set in 19th Century London this exciting, unabridged reading is based on the original 1977 TV serial starring Tom Baker as the Fourth Doctor. Written by Terrance Dicks and read by Christopher Benjamin, who played Henry Gordon Jago in the TV episodes, this novelisation of a classic story was first published by Target Books in 1977 and has a touch of the Sherlock Holmes about it!
2013 is the 50th anniversary of Doctor Who and the series will be celebrated throughout the year by the BBC and its commercial partners including AudioGO.