Sarah Jane Adventures – Series 5 DVD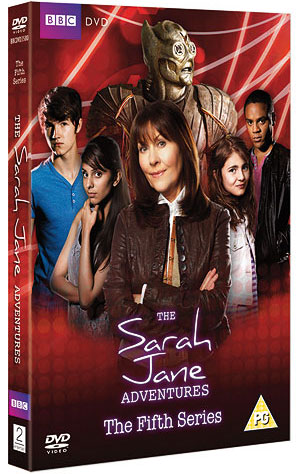 The Sarah Jane Adventures: Series 5 DVD
All three two-part episodes from the fifth series of the 'Doctor Who' spin-off, created by the award-winning writer, Russell T. Davies.
The programme follows the adventures of one of the Doctor's most famous former companions, investigative journalist Sarah Jane Smith (Elisabeth Sladen), as she faces all manner of alien life-forms and restores Earth's cosmic balance with the help of her young assistants Clyde (Daniel Anthony), Luke (Tommy Knight) and Rani (Anjli Mohindra).
Episodes are: 'Sky', 'The Curse of Clyde Langer' and 'The Man Who Never Was'.
Includes the special feature: Goodbye Bannerman Road – Remembering Elisabeth Sladen. A tribute to Elisabeth Sladen with contributions from those who worked closely with her, including The Eleventh Doctor, Matt Smith.
Released on February 6th 2012.
This item is available from www.bbcshop.com