The Paradise of Death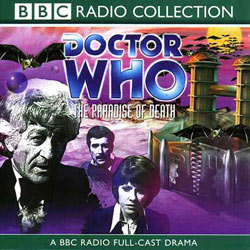 The Paradise of Death
Fitting seamlessly into television continuity between The Time Warrior and Invasion of the Dinosaurs, this made-for-radio adventure reunited the classic cast of Jon Pertwee, Elisabeth Sladen and Nicholas Courtney with television producter Barry Letts.
When a horrific and inexplicable death occurs at Space World, a new theme park on Hampstead Heath, Brigadier Lethbridge-Stewart and UNIT are called in to investigate.
The Doctor is highly suspicious. Just who controls the Parakon Corporation, the shadowy organisation behing the running of the park? What is 'Experience Reality'? And what are the limits of its awesome powers?