The Essential Terrance Dicks Volume 2 Hardcover
Available to order from www.amazon.co.uk and www.hive.co.uk
Also available to order from www.ForbiddenPlanet.com and www.waterstones.com
Coming this August is a two-volume celebration of this much-loved storyteller, collecting ten of Terrance Dicks' best Doctor Who novels, as chosen by fans.
Volume Two contains, complete and unabridged:
Doctor Who and the Genesis of the Daleks
Doctor Who and the Pyramids of Mars
Doctor Who and the Talons of Weng-Chiang
Doctor Who and the Horror of Fangn Rock
Doctor Who and the Five Doctors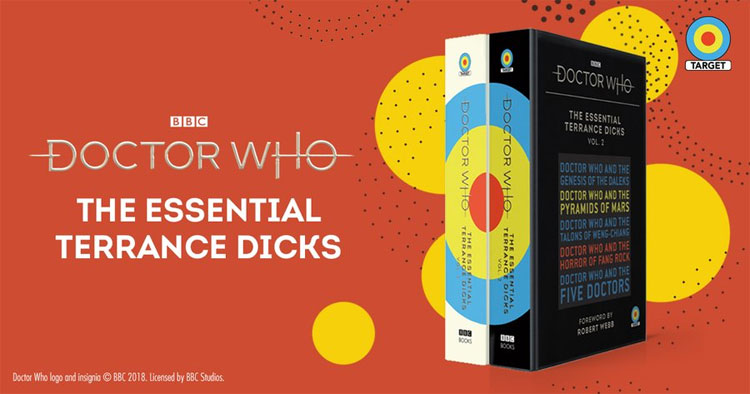 About the Author:
Terrance Dicks became Script Editor of Doctor Who in 1968, co-writing Patrick Troughton's classic final serial, The War Games, and editing the show throughout the entire Jon Pertwee era to 1974. He wrote many iconic episodes and serials for the show after, including Tom Baker's first episode as the Fourth Doctor, Robot; Horror at Fang Rock in 1977; State of Decay in 1980; and the 20th anniversary special, The Five Doctors in 1983.
Terrance novelised over sixty of the original Doctor Who stories for Target books, including classics like Doctor Who and the Abominable Snowmen and Doctor Who and the Auton Invasion, inspiring a generation of children to become readers and writers. He died in August 2019, only weeks before the publication of his final Doctor Who short story, 'Save Yourself', in The Target Storybook.